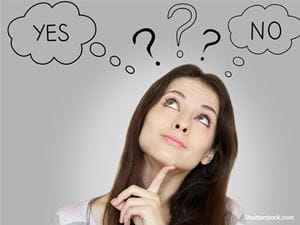 We are faced with hundreds of decisions each day. Everything from what we want to eat, which way to work we want to drive, or what we want to wear. We often go through life making choices without giving much thought about them. They become habits so you have more time to worry about other choices. Over time even our smallest decisions can cause big disruptions if we aren't paying close enough attention. Bad habits such as a poor diet and procrastination become problems.
We also have our big decisions in life we have to make. From who we want to marry, what career field we want to go into and the like. These can be incredible stressful to make due to the anxiety of not knowing which way to go. Getting a divorce or changing your major your last year of college can cause huge ripples in your life, so it's no wonder we try to make the right choice from the get go.
Moral choices are also a source of anxiety and question. These can be questions such as will I cheat on my test, should I lie to my boss, and the like. When we start choosing sin in these situations, we can fall down a slippery slope quick.
Whatever type of decision we are facing, there is information in the Bible about how to make the right choice. God understands that decisions, both big and small, can be overwhelming. Transforming our decision making process stars by changing our heart, mind, and soul to be more like Christ's. Here are the ways God will help you make the right choice.
God gave us the gift of choice.
One may wonder why humans are to make any choices at all. God gave us each a mind to think with reason in the hopes that we will follow His Will. Throughout the Bible, though, we see countless examples of God's children not making the right choices. For example, He gave Adam and Eve a choice to eat of all the trees in the Garden of Eden except the tree of the knowledge of good and evil (Genesis 3: 16-17), and He gave David the choice to kill Saul or to allow him to live (1 Samuel 24: 6-7).
Why didn't God program us to always make choices that matched up to our faith? The reason is because God honors our free will. He wanted to give us the opportunity to make the conscious choice to come to Him in our own way. In doing so, we understand the magnitude of how grand our faith is. He did not force us to love Him. Rather, He trusted that we would find Him and build a desire to make choices that honor Him.
Ask Him for direction.
While God gave us free will, that doesn't mean He won't help us make the right choices if we so ask. Proverbs 3:5-6 says "Trust in the Lord with all your heart, and lean not on your own understanding; in all your ways acknowledge Him, and He shall direct your paths". God has a grand plan for us, and with His council we can become our bests. Sit down and pray for God to give you guidance on a specific problem. Keep your ears and eyes open, and He will help guide you to your answer.
Search for relevant information in the Bible.
When faced with a big choice, one way to weigh out the pros and cons of each option is by looking for relevant scripture. There is scripture about everything from work, friends, alcohol, marriage, finances and even our personal health. All of our choices should be in accordance to God's 10 Commandments and overall teachings. If they violate what God's written, then it's not the right choice to make. As we study the Bible, we should act on what we learn. We should discard any choices that we discover would compromise with God's laws.
Look for other perspectives.
God can work in mysterious ways, and that includes navigating His servants. Pastors, church leadership, family and close friends may be able to give you guidance on a choice you are making. The Bible advises, "Where there is no counsel, the people fall; but in the multitude of counselors there is safety" (Proverbs 11:14). Different people will be able to contribute different information and perspectives that you may not have thought about before. God can use them to help you get a broader understanding of the situation.
Identify any additional choices.
When we are faced with a decision, we often close our mind too narrowly and feel like there are only a few options before us, when in fact there may be may different options. Don't feel stuck between two options that both do not honor God. Instead, take a step back and try to see it from His perspective. Is there something else you never have thought of before? God can open doors when you least expect it, and He might be working behind the scenes to change your life. God will create great paths for you, so don't feel like your options are limited.
Everyone makes bad decisions sometimes.
We often get anxiety about the choices we make, because we don't want to mess up our lives down the line. The truth is, though, that we are all going to make mistakes. We are so lucky to have a Lord that will provide us with grace and mercy when we choose the wrong path. Hebrews 4:16 says "so let us come boldly to the throne of our gracious God. There we will receive his mercy, and we will find grace to help us when we need it most." God loves us and will forgive us for the mistakes we make, as long as we ask Him. Do not rip yourself apart with fear over making the wrong choice, because God is going to still walk by you either way.
Making the right choice isn't always easy. It can be hard to figure out which way God wants us to go in life, but He has provided us with many different tools to help lighten the burden. Though speaking with God, reading the Bible, and talking with trust church members you will be able to see a little clearer the way God wants you to move.