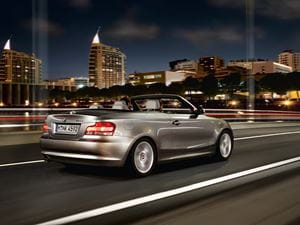 Big cities are full of life, culture, and fun things to do. But when it comes to driving in a city, anyone who's ever struggled to find parking or been attacked by a gigantic pothole can tell you that urban centers can also be extremely tough on cars.
With almost 350 cars to choose from, are some vehicles better suited to life in a big city? We partnered with Honk to sort out the urbanites from the suburbanites and learn which cars are most popular in the Big Apple, Windy City, City of Angels, and other major metro markets. Here's what we found:
[INSERT PHOTO: 2010 BMW 1-Series]
The BMW 1-Series proved most popular with city-dwellers thanks to its ability to offer a premium driving experience in a compact package. BMW's characteristic sporty moves are magic in this small coupe, helping owners dodge crazy taxi drivers, aloof bikers, and darting pedestrians. As one reviewer put it, "You get all the feel of driving a sports car without the lowdown seating."
[INSERT PHOTO: 2010 Audi A4]
Sometimes you need an escape from all the hustle and bustle of city life. If you can't make it to the Hamptons for the weekend, you might want to consider seeking sanctuary inside the beautiful cabin of the Audi A4. As the largest car in our Top 5, there's ample room to stretch out and you'll appreciate the comfortable ride if you venture out onto the street. The A4 is one of a few luxury cars to offer you the choice of an economical (but still powerful) 4-cylinder engine. "The turbo loves to kick in when I'm weaving in and out of traffic," notes one happy owner.
[INSERT PHOTO: 2010 Honda Fit]
"This is one FUN car to drive!" brags an enthusiastic Honda Fit owner. Thrifty and thoughtful, the Fit is a fantastic companion for the city. It gets great fuel economy and has nimble handling to help you weave through crowded streets. Parking this urban runabout is a breeze – but don't let those compact dimensions fool you… there's more cargo space inside the Fit than in some small SUVs. The secret here is the clever back seat, which can fold up or down to accommodate cargo of various shapes and sizes.
[INSERT PHOTO: 2010 Mini Cooper]
Not every car lets you reenact a car chase from The Italian Job on your way home from work every day. The Mini Cooper has classic styling, a playful demeanor, and great parking karma. It's an instant pick-me-up no matter what your mood. As one owner put it, "The Mini is perhaps the most emotionally satisfying car that I have ever owned. I highly recommend it."
[INSERT PHOTO: 2010 Smart ForTwo]
If ever there were a car suited perfectly for life in a big city, the ForTwo is it. This Smart is the smallest car on the market and it can squeeze into tight parking spaces that even a Mini Cooper would pass up. Owners love that the ForTwo can be optioned up with heated seats, rain-sensing windshield wipers, and other penthouse features at a studio price.

MATT CRAGIN
Matt Cragin manages the community on car website Honk.com, enabling him to keep his finger on the pulse of automotive world. Always ready to chat cars, Matt can be found on Twitter and Car Blog. Looking for the perfect car? Honk puts the fun back into car shopping with the latest information and opinions from real people like you.

Honk RSS Feed