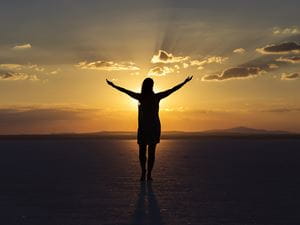 Shutterstock.com
Paul writes in his Letter to the Galatians "But the fruit of the Spirit is love, joy, peace, forbearance, kindness, goodness, faithfulness, gentleness and self-control. Against such things there is now law." (Galatians 5:22-23). According to Paul, these nine attributes sum up Christian life. In Catholic, and other Church traditions, there are 12 fruits of the Holy Spirit.
To better understand the Fruits of the Holy Spirit, turn to Matthew's Gospel: "Likewise, every good tree bears good fruit, but a bad tree bears bad fruit. A good tree cannot bear bad fruit, and a bad tree cannot bear good fruit. Every tree that does not bear good fruit is cut down and thrown into the fire. Thus, by their fruit you will recognize them." (Matthew 7:17-20). This passage helps us understand the observable behaviors of people who have allowed the grace of the Holy Spirit to be active in their lives. Practicing these fruits, or virtues, can change your life tremendously as we are allowing the grace of the Holy Spirit to be active in our lives. Here are the 12 fruits of the spirit and how they can transform your life.
We experience joy.
We know from Proverbs 10:28 "The prospect of the righteous is joy, but the hopes of the wicked come to nothing." We are also told in 1 Thessalonians 5:16-18 "Rejoice always, pray continually, give thanks in all circumstances; for this is God's will for you in Jesus Christ." When we exhibit the virtue of joy, we recognize that happiness is rooted not in things of this world, like money, power or possessions but in being believers of Christ.
We can find peace.
In a world full of chaos, violence and turmoil, God promises us a peace that passes all understanding. We are told in John 14:27 that Jesus leaves us with peace: "Peace I leave with you, My peace I give to you; not as the world gives do I give to you. Let not your heart be troubled, neither let it be afraid." We are freed from the bondage of fear and worry when we have God in our hearts, which allows us to experience inner peace. Many Christians who are in tune with this virtue often pray for peace throughout the world.
We exemplify kindness.
We all know the Golden Rule: do unto other as you would have them to do unto you, or in other words, treat others the way you would like to be treated. The same goes for the kindness virtue, where we give people the same respect we'd like given to us. We exhibit kindness through generous acts of service. People who practice this are not only compassionate and considerate, but have the ability to see the best in others.
We exhibit charity.
Charity nearly always means "love" when it is referenced in the Bible. Charity to indicate "giving" is mentioned in Acts 9:36 which references a disciple named Tabitha who was full of good works and acts of charity. We exhibit charity, or love when we are unselfishly devoted to God and our neighbors. We are told in Matthew 25:34-36, 40 "Then the King will say to those on his right, 'Come, you who are blessed by my Father, inherit the kingdom prepared for you from the foundation of the world. For I was hungry and you gave me food, I was thirsty and you gave me drink, I was a stranger and you welcomed me, I was naked and you clothed me, I was sick and you visited me, I was in prison and you came to me'…And the King will answer to them, 'Truly, I say to you, as you did it on the least of these my brothers, you did it to me.'" When we care for those in need, we are doing God's will. When we see a brother or sister and need and we have no empathy, love is not in us.
We learn to be more patient.
In our daily lives, we are confronted with difficulties. Patience allows us to endure these circumstances. We are told in Proverbs 14:29 "Whoever is patient has great understanding, but one who is quick-tempered displays folly." When we treat others with tolerance and thoughtfulness, we are demonstrating patience. Because of patience, we don't give up in difficult situations, and can overcome temptations and suffering because we know that God is present.
We recognize the goodness of God.
This virtue requires that we be in tune with who we are, and our own actions. When we practice goodness, we are putting God first, particularly when it comes to our decision-making. We are conscious of sin and try to avoid It because we know it's not in line with a true life with Christ. We are able to experience goodness through God's great love for us. We can love others through goodness and do good things because we know it's what God wants from us.
We become more generous.
Generosity by definition is the quality of being kind. When we practice the virtue of generosity, we are able to give even when we don't benefit from that giving, or there is a cost to ourselves. We are told in the book of Acts "In all things I have shown you that by working hard in this way, we must help the weak and remember the words of the Lord Jesus, how he himself said, 'It is more blessed to give than to receive.'" We demonstrate generosity when we're open to sharing our possessions and gifts with others. This displays our desire to help others, even when it means sacrificing something that we have.
We learn how to be more gentle with others.
Gentleness is a practice that involves having a calm temperament; we act calmly and stay away from actions that might lead us, or others to a place of anger or resentment. When we act out this virtue, we are also displaying forgiveness. We know it is better to forgive than to hold on to resentment by being angry. When we keep love in our hearts, we are led to gentleness, peace and grace.
We live more modestly.
Modesty is a virtue that deals with moderation in all your actions and behavior. When you exhibit this fruit, you're in tune with your words and your behavior, and whether these are in line with God. We are modest when we are pure in our thoughts and words. While modesty, particularly as it relates to dress has been a controversial topic in Christian spaces, what it comes down to is centering your focus on God and how in line those actions are with His will.
We learn how to practice self-control.
The fruit of self-control is exhibiting the will to overcome temptation and living according to God's will. We can practice this through the discipline of our emotions and actions. Ask yourself if what you're doing promotes respect of God and respect of self. Am I living a modest life? When we have self-control, we are less likely to be sabotaged by the enemy because we are in line with Christ, our actions and our emotions.
We are more faithful.
We are told in the book of John that the one who overcomes the world is the one who believes that Jesus is the Son of God (1 John 5:5). We know that in order for us to reach salvation, we have to have faith, and that faith must be centered in our Lord, Jesus Christ. People who exhibit faithfulness are dependable, trustworthy and obedient, particularly to the teachings of Jesus Christ, and God's Word through the Scriptures. They have faith in God, not faith in worldly things.
We nurture self-respect.
It's easy for us to recognize when someone is disrespecting us, but we don't always pay attention to how much we nurture our own self-respect on a daily basis. When you nurture the fruit of the spirit known as chastity, or self-respect, you are taking care of yourself. You begin to look at your daily habits objectively and start working towards self-care.
The Holy Spirit and its fruits are a gift of God's love given to those who place their faith in Jesus Christ. Once you accept Jesus Christ, you will receive this gift. With this privilege comes great responsibility. With the Holy Spirit guiding us, we must seek earnestly to remove ourselves from a context of sin, and obey the commands of God. Our thoughts and our actions should exemplify our faith. As Christians, we can enjoy the fullness, greatness and power of the Holy Spirit working in our lives and enhance our relationship with God. Accept the Holy Spirit at work in your life today.