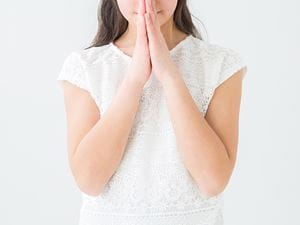 Shutterstock.com
People often get discouraged when praying for the salvation of loved ones and begin to wonder if their prayers ever really help. Well, guess what? They do! Your prayers can be a powerful force in the lives of your unsaved relatives, friends and even strangers if you know how to pray for them according to the wisdom and Word of God.
The problem is that most Christians don't know how to pray with skill. They just throw prayers in every direction and hope something comes of it. That's especially true when it comes to prayers for salvation of souls. It's not uncommon to see believers praying for friends or loved ones to get saved for 20, 30 or even 40 years without results.
Here are some prayers that will help you give those unsaved souls a chance.
Pray to Remove Satan's Influence
When we pray for those that need to be saved, we need to do so by reading the Bible and understanding why someone might not yet be saved. II Corinthians 4:4 tells us it is because "the god of this world [the devil] hath blinded the minds of them which believe not, lest the light of the glorious gospel of Christ, who is the image of God, should shine unto them." Once you realize it's the devil, and not the unbeliever, who's the real problem your first step becomes clear. You must get the devil out of your loved one's way.
"Lord, I ask that you help me today in blasting out Satan from the lives of non-believers. That spirit that is operating in them is not welceome! Satan is blinding those that need you most from the gospel, and keeping them out of the kingdom of God. As someone that belongs to you, O Lord, I carry Your authroity and righteousness. In Your name I command the devil to stop his maneuvers! I will deliver non-believers from his hands! Amen."
Pray They Receive Spiritual Sight
Unbelievers have been blinded by Satan and will only ever be able to see and appreciate the gospel if God works within them. So pray that God would give them sight—spiritual sight. "In their case the god of this world has blinded the minds of the unbelievers, to keep them from seeing the light of the gospel of the glory of Christ, who is the image of God" (2 Corinthians 4:4).
"Lord, I understand how tempting Satan's touch can be. I ask that you help put spiritual glasses on those who do not yet believe, so they can begin to see the devil's terrible influence over their lives. May they begin to notice the light that you could bring to them, if only they asked for Your hand. As I intercede in their behalf, I believe that the power of the Holy Spirit is activated in them. I am confident that You are alert and alive, watching over their life even if they aren't able to see it. Amen!"
Pray That They Come to Christ
It's impossible to make someone accept Christ into their hearts. They have to be willing to do so on their own. "Jesus said to him, 'I am the way, and the truth, and the life. No one comes to the Father except through me'" (John 14:6).
"Our Father, I know that I cannot make a non-believer accept you into their hearts. I can only share my testimony with them and hope they see your spirit living within me. Please, Lord, help me be an example that they can clearly see! I want them to find you, Lord, so that they can be free from the pain and destruction of this world. Let the path they move forward on lead straight to You. Amen!"
Pray For Salvation of the World
You might not have someone close to you that needs help finding the Lord, but you are aware that there are so many out there that still haven't see the light of God's Way. Those families need to be prayed for, too. Lift them up to our Father!
"Father, hear our prayers for the salvation of the world. Grant Mercy to all souls that turned away from You. Open their hearts and minds with Your light. Gather Your children from the east and the west, from the north and the south. Have mercy God on those who do not know You. Bring them out of darkness into Your light. You are our saving God Who leads us in our salvation. Protect us from evil. Bless and praise You Lord, hear our prayers and answer us. You, our Savior, are the hope of all the ends of the Earth and the distant seas. May Your way be known upon Earth; among all nations Your salvation. We put the world in Your hands; fill us with Your love. Grant us peace through Christ, our Lord. Amen!"
Not everyone has brought God into their hearts yet, because the temptations of the world and the devil have taken them away from the opportunity to do so. However, their salvation isn't lost forever. We can pray for those that aren't ready to accept Christ, so that they can be blessed even if they don't see it yet.