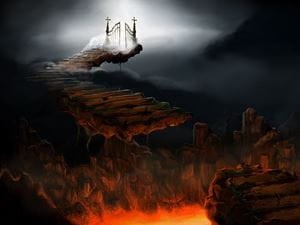 Pixabay
We are living in a severe warzone and continuously facing spiritual battles. It isn't easy to find peace in the face of a spiritual warzone. We often don't see that the biggest place that we deal with spiritual battles is our head. The Bible says, "They all ate the same spiritual food and drank the same spiritual drink; for they drank from the spiritual rock that accompanied them, and that rock was Christ. Nevertheless, God was not pleased with most of them; their bodies were scattered in the wilderness" (1 Corinthians 10:3-5). There a number of satanic strongholds that hold us captive that we need to be aware of. The enemy will use these battles taking place in our heads against us and attempt to attack us daily. One of the greatest spiritual weapons we can use in these battles is prayer. Here are five prayers for strength in spiritual warfare.
A Prayer When You're Weak
The enemy will come for you when you are in a weak place in your life. This can be when you're in a vulnerable place physically and emotionally. Remember, Jesus was targeted when he has fasted for 40 days. Matthew 4:2-3 says, "After fasting forty days and forty nights, He was hungry. The tempter came to Him and said, 'If you are the Son of God, tell these stones to become bread.'" Satan tried to attack Jesus when He was challenged physically. If the devil sees that you are weak and willing to dwell in your weaknesses, He will prey on you. The good thing is we can put on the full armor of God and take our stand against the enemy's schemes (Ephesians 6:10-11). Turn to this prayer when you're feeling weak: Dear Lord, as I begin my day, I pray that You would fill me with Your Spirit. I feel weaker than usual today. Please cover me with Your protecting wings and guard me from spiritual attacks. Amen.
A Prayer When You're Beginning a New Spiritual Quest
The enemy will attack you when you're beginning a new spiritual journey. There is nothing satan loves more than to break down your relationship with God. He doesn't want you to grow in faith. When the devil knew that Jesus was about to begin His earthly ministry, he tried to vigorously attack Him. Yet, Jesus didn't let the devil get in his way. When we are starting our own spiritual journeys, the devil will try to distract us and sabotage your efforts. He wants you to fail and not advance God's Kingdom. Don't allow him to defeat you. Thankfully, God reminds us of the spiritual weapons in front of us that have incredible power. Second Corinthians 10:4-5 says, "The weapons we fight with are not the weapons of the world. On the contrary, they have divine power to demolish strongholds, every thought to make it obedient to Christ." If you're ready to stop the devil right in his tracks, pray this prayer: Dear Lord, I ask for your assistance as I begin this new spiritual quest. I ask for Your assistance in letting go of fear, old patterns, and habits that don't serve you. Amen.
A Prayer When You Want to Wait on God
When you're feeling unusually tired or sluggish, it could be pointing to a spiritual attack. While these issues may indicate other problems occurring in your life, it can also point to spiritual attack, as it separates you from the things God calls us to do. Isaiah 40:30 says, "Even youths grow tired and weary, and young men stumble and fall..." When we wait on God, He renews us. We can be empowered when we pause, rest, wait, and rely on God instead of relying on ourselves. Turning to God's Word reminds us that God can protect us from the enemy's attack. Second Thessalonians 3:3 says, "But the Lord is faithful, and He will strengthen you and protect you from the evil one." Turn to this prayer when you're ready to wait on God: Dear Lord, I am ready to relinquish control and let you take the lead in my life. In the face of this spiritual attack, I am ready to wait on You. Help me to speak only the words You would have me to do. Amen.
A Prayer When You're Frustrated
The enemy will attack you when you're extremely frustrated. He will also use these circumstances to repress your mind. You may find yourself feel more anxious and on edge when you're under siege. The conversations you have with your partner, your children, or close friends can turn explosive, and the thoughts you have can take you down a negative path. You also may find yourself saying things and acting in ways that are not in line with your character. It may be harder to recognize yourself. This is a big sign you are under spiritual attack. If you are feeling extremely frustrated, turn to this prayer: Dear Lord, I feel extremely overwhelmed, and I need Your help today. I feel like I'm under spiritual attack. This situation has greatly upset me, and I ask for Your guidance and protection. Please help me to know what actions I should take and how to recover my peace of mind. Amen.
A Prayer When You Don't Have the Answers
When you're under spiritual attack, the enemy will do everything to lure you into quick fixes. He hopes you will stumble and try to turn to him instead of God when you're in search of answers. If you are struggling in your relationship, he will sabotage the way you view your relationship so that it will break down. If you are battling a physical ailment, he will try to make you think that God is not present or cares about what you're going through. James 4:7 gives us a wonderful assurance during this spiritual attack, "Submit yourselves, then, to God. Resist the devil, and he will flee from you." If you are in search of the answers, turn to God with this prayer: Dear Lord, I know that You are ready to answer my prayer in Your perfect time and way. Help me to trust in the plan You have for me in this especially difficult and critical time in my life. Amen.
If you are Christian, you are not immune to spiritual attack. In fact, the devil sees you as his biggest target. He wants you to lose sight of God and place your trust in him. If you are not on guard, the devil can separate you from God. When we pray and put on the full armor of God, we have the power to ward off these spiritual attacks.