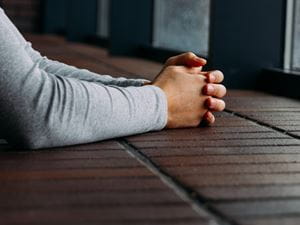 Shutterstock.com
It can happen to anyone, and maybe it's happened to you. You're sitting in a small group or church, and it's time for prayer. You can feel the group leader's eyes scanning the attendees because you know they'll ask someone to pray. Your heart starts racing because you're hoping they don't ask you, purposefully keeping your head down and avoiding eye contact. You don't want to give the slightest impression that you're interested in leading prayer.
The tension is steadily building as the moment of truth comes closer because they're about to ask someone. However, you feel great relief because the group leader didn't ask you this time. You got passed over, and this was one time when it didn't matter because the group leader chose someone else to pray. Your anxiety recedes, and you feel like you dodged another bullet.
You're not alone if you've experienced this feeling when someone asks you to pray in public. Lots of people are scared of praying in front of other people. This fear can hold you whether you're praying with one other person or in front of a group. There can be an essential pressure that comes with it, and it's okay to admit if you've felt it.
For example, imagine if you're on a date and you ask your date to pray over the food. Your date gets nervous and declines and asks you to pray instead. Later on, you find out that your date felt intimidated to pray in front of other people. If you also understand this intimidation, you'll get over it over time, but the question is, how do you do it? When asked to pray in public, different concerns and worries flood your mind and heart. You worry about what you'll say and how it will sound. Is anybody listening to your prayer? Will people think your blessing is spiritual enough? These thoughts are especially true if someone you believe can pray or the pastor is in the room.
Combining all these factors can grow into a tsunami of overwhelming emotions where people would rather sit quietly than get up to pray. Still, it doesn't have to be that way. You can pray in public with assurance and confidence that your prayers are successful, and these suggestions will help you out. Here are some things you should consider that can help you overcome your fear of praying in public.
Don't think about how others pray.
Perhaps you went to a church where the public prayers were very elaborate. While the person praying wasn't trying to be a show-off, these people went into worship. They prayed strong, long, and you felt like they knew how to pray. If professional prayer existed, they knew about it. Not only did they pray with conviction, but you felt like they quoted the whole Bible when they prayed, reminding God of all the promises He made.
When you hear people pray this way, you think, "I hope they don't ask me to pray because mine won't be that good." However, consider this good news: you don't have to. Part of the intimidation factor of praying in public is we think there's some unique way you have to pray because you're in public, but that's not true. How others pray does not affect how you pray. If the way they pray works for them, that's fine, but you don't have to copy them.
Often in church, we do things because we see other people doing them, setting an expectation that we feel we have to reach. Unfortunately, this idea is accurate for prayer too, but don't fall into this trap. Let others pray the way they do, and don't try to compare or compete.
Don't talk to the people; talk to God.
Sometimes people pray to hear a response from the audience, listening for the agreements and amens from the audience. If you're praying to hear the "hallelujahs" and "amens," then you're praying to the people, not God. These prayers might sound impressive to the people, but they're not always practical so try not to pray that way. Let God be the only focus of your prayer when you pray. Prayer is your talking time with God so let it be that. The best part is God wants to hear from you.
Speak from the heart.
One of the battles of public prayer is you feel like you don't know what to say and worry your prayer might not be long enough, or your words might not be good enough. You believe there's a perfect way to pray, but God isn't interested in perfect prayers because they don't exist. What God cares about are genuine prayers. Your prayer length doesn't move God's heart, but the authenticity and honesty in your prayers will. In Matthew 6:7-8, Jesus said when you pray, don't keep babbling like pagans because they think they'll be heard because they talk a lot. Don't be like them because your Father knows what you need before you ask Him.
What God wants is honesty in your prayers, whether private or public. Tell God the truth about what's in your heart and your feelings because these are the most effective kinds of prayers.
Follow Jesus' example of public prayer.
When you consider Jesus' life, you don't see Him praying long prayers in public. His prayers were direct and short. For example, when He prayed at Lazarus' tomb, He said, "So they took away the stone. Then Jesus looked up and said, 'Father, I thank you that you have heard me. I knew that you always hear me, but I said this for the benefit of the people standing here, that they may believe that you sent me."
This prayer is short, sweet, and to the point. Jesus practiced praying simple, short prayers in public. Sometimes, Jesus prayed intense, long prayers, but those were never public. If you have to pray in public, short prayers are appropriate because that's what Jesus did. Still, this idea doesn't mean you won't ever say a long prayer in public, but don't feel pressured to do the same.
Prayer is your time with God to say what's in your heart. This truth remains whether you're in your own prayer time or in front of others. When you pray sincerely from your heart, you can pray no matter where you are, and that's what God wants.