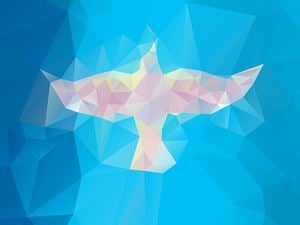 Shutterstock.com
No joke the coffee spilled all over my lap while driving on the highway, just freaking awesome.
Unbelievable, a driver just cut me off while pulling into a church parking lot before the worship session kicked off.

What was that sound?

The heavy weight of impending deadlines and the sound of sighs.

If you are never tempted to scream, rant or mutter unholy words under pressure, you are an anomaly.

For the rest of us, the only raft that helps us during stress and unpleasantness is the fruit of the Spirit. Yes, there is a Scripture to back this up in Galatians 5:22. You know the verse that tells us to operate with "love, joy, peace, patience, kindness, goodness, faithfulness, gentleness and self-control. There are no laws against things like that."

Yes, that Scripture. Ring a bell?

The purpose of this is to not only give us the ability to refute the thought of flipping someone off or blowing a gasket but to come into sanctification with Jesus and to be transformed into His image. We are meant to become better than we are right now in the mind and in our daily walk.

Look, we will not match Christ as we are mere humans. Yet, this is no excuse not to lean on and glean power from the Holy Spirit. Here is why the fruit of the Spirit is important to us.
It transforms our personality.
The fruits we receive come directly from the Holy Spirit to sand down the rough edges and harshness in our lives. It is God's joy, temperance and love for us that infuses our inner man to aid us during our struggles. "For this reason we can accurately say our weakest point in love, joy, peace, patience, kindness, goodness, faithfulness, gentleness, and self-control is the indicator of the fruit of God's Spirit in our lives," Brad Hambrick wrote, who serves as the Pastor of Counseling at the Summit Church in Durham, NC.
It gives us joy.
We are an embattled people. Over the years, we just lose our joy. The joy is another infusion that we can get from God when we are struggling. God will lead us to the promises as we pray. He will guide us by the power of the Holy Spirit. When we pay attention to more of the sadness or stress in our lives than the joy He has for us--we can easily get into a funk.
It gives us hope.
We are living in uncertain times and we never know what is going to happen next. Author Beth Moore said that we need to "maintain our careers, keep our kids fed and houses clean, be at every activity, and look good while doing it. It is so freeing to realize that we don't have to measure up for God." Living under this constant pressure like this can sap your peace. Tap into the power of peace. Ask God for peace and depend on Him to give you wisdom on how to maintain it. We need peace to stop arguments, let things go and to find rest. Think on this when you are in traffic.
It makes us long suffering.
With people having such a short fuse, we need a ton of long suffering. "Learn how to ride and flow with the patience of the Holy Spirit in your daily life and walk with the Lord – and you will then be able to enter into a much more restful, peaceful state," Bible Knowledge explained. Having more patience will help you not only offer peace, but it will help you make better decisions and prevent you from acting in haste.
It makes us more faithful.
How many of us need to be more faithful in our relationships and in our commitments? We are a fickle bunch and we go with whatever we want without restraint. Doing the right thing most of the time is never easy and it can really hurt. Resisting this temptation to not follow through on things because we don't feel like it can't be an excuse. The Bible warns that we can resist temptation and remain faithful. "No temptation has overtaken you but such as is common to man; and God is faithful, who will not allow you to be tempted beyond what you are able, but with the temptation will provide the way of escape also, so that you will be able to endure it." Being faithful is a remarkable characteristic.
It keeps us grounded.
We live with self-centeredness every day. We always have ourselves on our minds. Living in a fallen world, this all makes sense. In a place where we are always in a race to be the next best thing, we can call upon the fruit of the Spirit to help us. Embrace goodness in this area when you feel like being greedy as there is a real power hidden in selflessness. Do something for someone else and build on it. Be kind to a stranger, instead of hoarding, help someone else or pay their way. By being good, we will be like a well-watered plant and flourish.
Next time you are out and about and you have the temptation to lose your cool, call on the fruit of the Spirit. Think upon the earlier Scripture in Galatians to find gentleness when you feel like you want to fight. This will help your light glow brighter and perhaps, keep your blood pressure in check. Here is a nugget from the Book of Hebrews: "Let us hold fast the confession of our hope without wavering, for He who promised is faithful." It all comes down to our willingness to submit to God's direction.