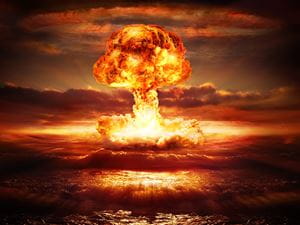 Shutterstock.com
There is no doubt that one day planet earth will be gone. The interesting thing is that the Bible has quite a few things to say about this event. In fact, Jesus himself gave us several signs we can see to know when the end times will be nearing.
However, what each of us as Christians believe about the end of the world varies, and it varies widely.
There are a number of systems of belief about the end times which include the timing of events, what certain biblical symbols mean, and what is literal and what is metaphorical. Many Christians dedicated themselves to a certain system and attempt to make God's Word conform to what they believe to be true.
You might have discovered that many of the Biblical passages can be read more than one way. Many of the end-time belief systems look great on the surface, until another plausible belief quickly challenges it. All end-times reconstructions cheat where they have to in order to take care of these "problems", or passages that raise the possibility the system could be wrong. Many Christians argue and debate over the semantics of the scripture, which can cause a great divide.
Sometimes, the problem is not multi-layered interpretations as much as interpretations made wildly out of context, attempting to fit into our current views of the modern world. One's view of Revelation, for example, should be comprised of information by the general picture of God's work throughout the New Testament as opposed to just understanding what is in that singular book. Despite this, many Christians still cannot agree on what the Bible is trying to tell us.
Why would God choose to make the Bible so incredibly vague and open to interpretation?
The idea that the Bible's teaching about end times is not conclusive, or that you can't just study the Bible and get a clear, beyond-any-reasonable-doubt answer to what's going to happen, can be hard for many Christians to accept.
Have you ever thought that this was an intentional part of God's plan to leave it vague?
God never does something without a specific purpose and reason behind it, even if we don't understand why. Jeremiah 29:11 reminds us of this, saying "For I know the plans I have for you, declares the Lord, plans for welfare and not for evil, to give you a future and a hope."
Everything is done in God's timing, and only He will know the appropriate time to share out more definitive information about the end times (if at all). In Acts 1:7 God says to them: "It is not for you to know the times or dates the Father has set by His own authority." We are to let the process play out like God wants it to, and not be alarmed. Ecclesiastes 3:1 states "There is a time for everything, and a season for every activity under the heavens."
At the end of the day, placing too much importance on ironing out the details of the end times can distract us from living for the Lord right now. God doesn't want us to overly waste our time trying to figure out every small detail of the end times. The most significant time for Christians is the here and now, and our study of the End-Times shouldn't distract us from the opportunities of today. God will take care of the future, and we still have work to do here on Earth.
This doesn't mean we shouldn't continue to study God's Word regarding the end times and pray for wisdom as we seek to discern what God is revealing to us. It just shouldn't be something that weighs heavily on your mind or take you away from what's important. Philippians 4:6-7 says "Do not be anxious about anything, but in everything by prayer and supplication with thanksgiving let your requests be made known to God. And the peace of God, which surpasses all understanding, will guard your hearts and your minds in Christ Jesus."
We need to not waste our time being anxious that it might happen tomorrow. The Bible tells us that only God the Father knows the exact timing of Jesus' return (Mark 13:32). If only God knows the details of this event, then it's safe to assume our human brains will not be able to figure it out.
One thing we can be sure of regarding the end times: Jesus will come again, and if we have believed in Him, we will one day be with Him in heaven. Let us not allow the ambiguous details of His return to deter us from living for Him right now or from working alongside fellow Christians who may hold different views about the end times than ours.