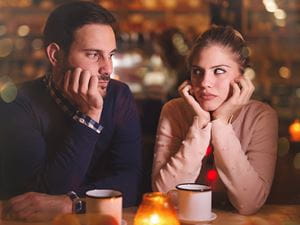 shutterstock.com
The Bible tells us directly that our words have power. The things that we say have the power to build others up and tear others down. The Bible tells us, "The words of the wicked lie in wait for blood, but the mouth of the upright delivers them" (Proverbs 12:6). It is so important that we ask if the language we're using is empowering or destroying those around us. To understand the magnitude of our words, a good person to turn to in the Bible is the apostle Paul. In Ephesians 4:29, Paul writes, "Do not let any unwholesome talk come out of your mouths, but only what is helping for building others up according to their needs, that it may benefit those who listen." In these verses, Paul is underlining the importance of positive words over negative words.
Think about the language you use daily. Are you saying things to family, friends and colleagues that lift them up or tears them down? People also don't think about the impact of foul language. While telling dirty jokes, cursing and using vulgar humor may not seem like a huge deal, it is. What is wrong with saying a few bad words here and there or watching movies with bad language in them? It's not hurting anyone, and swearing is just a natural part of life, right?
The Bible has more to say on this subject than we may realize. In addition to Ephesians 4:29, Paul also says in Ephesians 5:3-4, "But among you there must not be even a hint of sexual immorality, or of any kind of impurity, or of greed, because these are improper for God's holy people. Nor should there be obscenity, foolish talk or coarse joking, which are out of place, but rather thanksgiving." We must pay attention to the ways words are used in our culture these days. When someone uses foul language, what are they trying to communicate? How does it feel when someone says foul language to you? Is there ever a time when foul language builds others up? Most of us know the answer to these questions. There is never a time where profanity isn't negative or hurtful. Contrary to popular belief, foul language is verbal abuse.
Jesus spoke directly on verbal abuse in the Bible in Matthew 5:22: "But I say to you that everyone who is angry with his brother will be liable in judgment; whoever insults his brother will be liable to the council; and whoever says, 'You fool!' will be liable to the hell of fire." Therefore, it's so important that we speak uplifting words. Jesus reminds us in scripture that the words we use should overflow from our hearts. Jesus said, "You brood of vipers! How can you speak good when you are evil? For out of the abundance of the heart, the mouth speaks. The good person out of his good treasure brings forth good, and the evil person out of his evil treasure brings forth evil" (Matthew 12:34). When we become Christians and confess that Jesus is Lord, there is a shift in us. Things about us are expected to change. This includes the words we use.
Cursing is a sin. Romans 3:14 reminds us that the sinner's mouth is full of cursing and bitterness. As believers, our voices are opened to glorify and praise God. One of the reasons we shouldn't use language like this is because it doesn't reflect Christ. A great reminder of this is Colossians 4:6, which says, "Let your conversation be always full of grace, seasoned with salt, so that you may know how to answer everyone." Those who become Christian experience a total transformation of the heart. The power of God changes our hearts. This is reflected not just in what we do but also in what we say.
Think about the days before you were saved. Some of us have known Christ since we were a very young age, but some find Christ at a later age. If you are old enough to remember the moment you found Jesus, you remember what it was like to be changed by the power of God. Before repenting and claiming Jesus as your Lord and Savior, you lived in spiritual death. Ephesians 2:1-2 says, "And you were dead in the trespasses and sin in which you once walked, following the course of this world, following the prince of the power of the air, the air…" Our words have the power to bless others. Those words are full of blessing when our hearts are full of blessing.
Peter reminds us, "in your hearts honor Christ the Lord as holy, always be prepared to make a dense to anyone who asks you for a reason for the hope that is in you; yet do it with gentleness and respect" (1 Peter 3:15). Your words should be used to represent your faith and show others that you reflect Christ in the things you say and do. Our words should also be used to reflect God's grace and show how the Holy Spirit is at work in our lives.
Look at the words that are in your vocabulary. Are most of these words positive? Do they enable you to be an instrument of God's love and grace, or are your words negative and break others down? If your answer is anything but positive, consider switching up your language? As you begin doing this, you will feel a big change coming over you. Over time, your spirit will feel different. You may even feel healthier. This is because you are removing the sin toxins from your body and becoming renewed spiritually. There is nothing better than being able to reflect God through your words. Your words have the power to help others know Christ better.