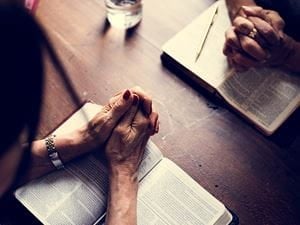 Shutterstock.com
According to the Synod Resource Center, a spiritual gift "is a significant ability given to each believer by the Holy Spirit, who thus equips and moves members of the church to serve in special ways for Christ and His kingdom." God gave every single one of His children a unique skill set that no one else has. When we identify these gifts and start using them for God, we change the world for the better. Furthermore, we become more connected with God and our Christian faith.
Here are the steps you need to understand your spiritual gifts, and find effective ways to use them in your local community.
Finding your spiritual gift.
In 1 Corinthians 12:4-7 it says: "Now there are diversities of gifts, but the same Spirit. And there are differences of administrations, but the same Lord. And there are diversities of operations, but it is the same God which worketh all in all. But the manifestation of the Spirit is given to every man to profit withal." God gave us all very different gifts that are specific to our lives. God loved us so much that He bless us each with these skills and talents. You have something to offer to this world that will serve our living God.
One of the best ways to figure out your spiritual gifts is by seeking God through prayer, obedience, and by reading His word. In 1 Corinthians 12:8-10, Paul actually identifies some types of spiritual gifts like workings of miracles, gifts of healing, prophecy, discerning of spirits, and in later chapters adds gifts of helping and administration. This is not a comprehensive list by any means, but is a great place to start when trying to identify yours. He blessed you with the spiritual gifts, so He will also open your eyes to what was always inside of you as well. As you grow your relationship with the Lord, you will start to take notice areas of your life you excel in. You can identify your spiritual gifts with this quiz as well. It identifies 20 different types of gifts, and how they can be used in the modern church.
Don't judge other's spiritual gifts.
God was specific and meticulous when giving out spiritual gifts to each of His children. We have to remember that all our gifts are unique and can be used to serve the Lord. God loved us so much that He implanted these skills and talents. In 1 Corinthians 12:5-6 it says "There are differences of ministries, but the same Lord. And there are diversities of activities, but it is the same God who works all in all." We all are going to be involved in different churches and denominations, but at the end of the day we are serving the same God. We are not to judge each other on our gifts and duties.
Romans 12:3-8 echoes this by saying: "For I say, through the grace given unto me, to every man that is among you, not to think of himself more highly than he ought to think; but to think soberly, according as God hath dealt to every man the measure of faith. For as we have many members in one body, and all members have not the same office: So we, being many, are one body in Christ, and every one members one of another. Having then gifts differing according to the grace that is given to us, whether prophecy, let us prophesy according to the proportion of faith; Or ministry, let us wait on our ministering: or he that teacheth, on teaching; Or he that exhorteth, on exhortation: he that giveth, let him do it with simplicity; he that ruleth, with diligence; he that sheweth mercy, with cheerfulness."
Hold yourself accountable.
We must not become possessive of spiritual gifts. They are His to distribute and His to wield, and we as His children are just the willing vessel. We are not to determine how we are to use our gifts, but rather try and utilize them in ways that God would want to benefit the church and our communities. Paul tells us in 1 Corinthians 14:1 to "follow the way of love and eagerly desire spiritual gifts." God wants us to cultivate our gifts with a heart full of love, and motivated by a desire to lift up our Lord and His people. They are meant to be used to make us more effective servants.
Enroll in a Bible Study group, prayer group, or something similar where you can develop strong relationships with other Christians. You can speak with them about helping to hold you accountable. If they see you using your gifts inappropriately, they will be able to call you out and reconnect you back to the church.
Look for opportunities to use your spiritual gifts.
When you are ready to walk in your spiritual gifts it's okay to go the more traditional route like volunteering in your local church or shelter. Your gifts are needed there too, but also be open minded to other possibilities as well. You can stretch out your gifts to serve others that normally aren't touched by God's Word.
For example, you could start a blog, create a Youtube Channel, or launch a podcast. All three give can give Christians with a lot of creativity an outlet to be loud and speak their truths. For those that are great with working with other people, starting a bible study group or leading a mission trip are fantastic ways to start using your spiritual gifts. Don't limit yourself into one box.
God blessed each of us with talents that can bring light to our dark, secular world. Christians all over should feel pride in sharing their gifts with others, and find unique and interesting opportunities to bring others to Christ. Do not think that you aren't special or that God doesn't have a great plan for you. Jesus is ready, excited and willing to help you on your path.