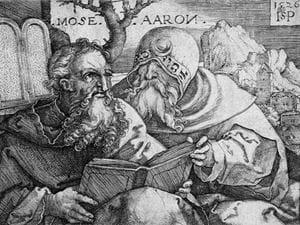 Public Domain/Wikicommons
You will come across many great conversations throughout scripture. While some biblical characters appear silent, many did speak. Old Testament examples include characters like Noah and his sons, Jacob, Job and his friends, Solomon, David, Isaiah, and Elijah. Some of these Bible characters were able to communicate with God and hear His voice. We know from their example that God not only spoke during biblical times, but He also speaks today. Here are five ways people in the Bible communicated with God.
God spoke to and through the prophets.
Ezekiel 12:25 says, "For I am the LORD: I will speak, and the word that I shall speak shall come to pass; it shall be no more prolonged: for in your days, O rebellious house, will I say the word, and will perform it, saith the Lord God." Scripture teaches us about three periods of history. These periods included the Patriarchal, Mosaic and Christian Ages. During the Patriarchal Age, God spoke to the fathers of the households like Adam. In the Mosaic Age, God delivered His law through Moses. In the Christian Age, which is the age we live in, the gospel came by way of Jesus Christ.
Ultimately, God selected His spokesmen for each age. For example, Moses was the prophet during the Mosaic age. God also spoke through prophets, judges and kings during these periods. In Hebrews 1:1-3, the writer speaks directly to this, "In the past, God spoke to our ancestors through the prophets at many times and in various ways, but in these last days he has spoken to us by his Son, whom he appointed heir of all things, and through whom also he made the universe. The Son is the radiance of God's glory and the exact representation of his being, sustaining all things by his powerful word. After he had provided purification for sins, he sat down at the right hand of the Majesty in heaven." During biblical times and in times past, God spoke to us directly through the prophets.
God spoke through biblical accounts and counsel.
One great example of God speaking life application through counsel and biblical accounts is the story of Hannah, referenced in 1 Samuel 1 and 2. This story is a reminder that our Heavenly Father wants us to rely solely on Him when we are going through trials. In this instance, Hannah was one of many women during biblical times who dealt with infertility. Before Hannah, we see infertility in the accounts of Sarah, Rebekah and Rachel. For countless years, Hannah turned to God and promised that she would dedicate her child to Him should she be blessed with a pregnancy. First Samuel 2:21 says, "And the LORD was gracious to Hannah; she gave birth to three sons and two daughters. Meanwhile, the boy Samuel grew up in the presence of the LORD." Hannah not only delivered Samuel. The Lord blessed her with many more children. She dedicated Samuel to the Lord as promised.
God spoke through dreams and visions.
God sometimes spoke to biblical figures through dreams and visions. Joel 2:28 says, "And it shall come to pass afterward, that I will pour out my Spirit on all flesh; your sons and your daughters shall prophesy, your old men shall dream dreams, and your young men shall see visions." This doesn't just apply to those living in biblical times. It also applies now. God is actively speaking to us through these important messages, and they often have deeper spiritual meaning. If you think that you are receiving a message from God, pay attention to what He might be saying to you. God may be trying to talk to you right now without you even realizing it. When you know what God is saying to you, you can communicate with Him in new ways.
God spoke through instruction.
Another important way that God spoke to those in biblical times and to us now is through instruction. The Lord not only creates the space for us to better hear Him, but He also directs our movements in these circumstances. Job 33:16 says, "He may speak in their ears and terrify them with warnings…." In the same way that a seal is used to create an imprint in wax on a document, God does the same to our hearts and minds. There is a great deal we can learn through these instructions. We can better interpret what the Lord is saying when we really listen.
God spoke to the writers of scripture, along with the apostles.
The greatest messages from God were delivered through writers of the Bible, along with the apostles. Second, Peter 1:21 says, "For the prophecy came not in old time by the will of man: but holy men of God spoke as the Holy Spirit moved them." Second Peter 1:16-18 also says, "For we have not followed cunningly devised fables when we made known unto you the power and coming of our Lord Jesus Christ but were eyewitnesses of His Majesty. For He received from God the Father honor and glory, when there came such a voice to him from the excellent glory, this is my beloved Son, in whom I am well pleased. And this voice which came from heaven we heard, when we were with him in the holy mount." We are taught that God's written word was divinely inspired. God was able to convey His word through these writers. While we are not given exact details of how it occurred, our inability to understand shouldn't give us reason to doubt or deny it. Ultimately, we see that God supernaturally guides the writers of the Bible to inscribe His truth.
The voice of God not only spoke to those in biblical times. He is speaking to us right now. When we can understand the messages He is giving us, we can better understand God's Word, His purpose, and our mission. Are you ready to uncover what God is telling you?