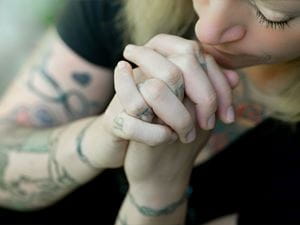 Lightstock.com
The pain of this life is not without purpose, and nothing, absolutely not one bit of it, will go to waste in God's hands. We can look at our circumstances and be so blinded by the pain and tribulation they cause that we fail to see how God may use them or meet us in it. We let go of the promises of scripture, forget His character, and ignore the victory that is coming. Our circumstances often blind us to the truth.
From our earthly view, things can look too hard or impossible. It can look as though there is no solution or that our pain will surely eat us alive, but the reality is that our temporal view is missing a heavenly perspective. What seems hopeless in front of us finds its cure in Christ.
Scripture repeatedly brings us back to the place where we are reminded that nothing in God's hands is wasted or without hope. There is not one bit of pain that we walk through in this life that he will not use to point us back to Him in all of His majesty and glory.
If you're at a point in your life where you're consumed with a significant personal loss, you may question the very heart of God. However, scripture allows you to hear God's voice and know that not all hope is lost after all. Here are ways that God uses your pain and scriptures to help you get through.
God is always at work for you and in you.
We can be reminded that God is everlasting when we walk through painful seasons. He does not grow weary or need a break. No, He is able. God will give us strength. Isaiah 40:28-31 reminds us, "Have you not know? Have you not heard? The Lord is the everlasting God, the Creator of the ends of the earth. He does not faint or grows weary; His understanding is unsearchable. He gives power to the faint, and to him who has no might, He increases strength. Even youth shall faint and be weary, and young men shall fall exhausted, but they who wait for the Lord shall renew their strength; they shall mount up with wings like eagles; they shall run and not be weary; they shall walk and not faint."
God draws near to the heavy hearts.
God is close to us amid our heartaches, and He will never leave us to walk through them alone. Psalm 34:18 tells us, "The LORD is close to the brokenhearted and saves those who are crushed in spirit."
Pain doesn't last forever.
One day the pain will fade away and cease to be a memory. Heaven is the gain that we are waiting for, where the struggles of this life will be left far behind. Revelation 21:4 reads, "He will wipe every tear from their eyes. There will be no more death or mourning or crying or pain, for the old order of things has passed away."
God is the God of all the comfort we need.
In the middle of our trials, God will provide every bit of comfort we need. The worst pain we have experienced in this life and the comfort we have received may be what someone else needs to hear. God can use our painful seasons to bring comfort to others around us. Second Corinthians 1:3-5 tells us, "Praise be to the God and Father of our Lord Jesus Christ, the Father of compassion and God of all comfort, who comforts us in all our troubles so that we can comfort those in any trouble with the comfort we ourselves receive from God. For just as we share abundantly in the sufferings of Christ, so also our comfort abounds through Christ."
Our pain can't compare to the good things ahead.
Our present sufferings cannot compare to the promise of what is coming. We can hold fast to this promise. Even in trials, we can hold fast with eager expectations. In Romans 8:18-21, we read, "I consider that our present sufferings are not worth comparing with the glory that will be revealed in us. For the creation waits in eager expectation for the children of God to be revealed. For the creation was subjected to frustration, not by its own choice, but by the will of the one who subjected it, in the hope that the creation itself will be liberated from its bondage to decay and brought into freedom and glory of the children of God."
God promises to give us His strength.
God will strengthen us and uphold us even in dark days. He cannot be shaken. Isaiah 41:10 reminds us, "Fear not, for I am with you; be not dismayed, for I am your God; I will strengthen you, I will help you. I will uphold you with my righteous right hand."
God makes everything work out for our good.
God works things together for good, good that will proclaim His name. Even when we despair over our troubles, He will use them to reveal His glory and goodness. Things will work according to His perfect purpose, even the things we do not understand. Romans 8:28 tells us, "And we know that in all things God works for the good of those who love him, who have been called according to his purpose."
God promises His rescue when we need it.
How comforting that none of our pain will go to waste, that He will rescue and sustain us in troubles. He will be faithful to walk with us and hear our prayers. He will ease the ache of our hearts. Psalm 91:14-16 says, "Because he loves me, says the LORD, I will rescue him; I will protect him, for he acknowledges my name. He will call on me, and I will answer him; I will protect him, for he acknowledges my name. He will call on me, and I will answer him; I will be with him in trouble. I will deliver him and honor him. With long life, I will satisfy him and show him my salvation."
Scripture reminds us again and again that no matter what we face in this life, we can "count it all joy," as James reminds us. Joy is not because the circumstance is easy or without pain, but because we can know that in God's hands, nothing will be wasted. He will comfort, strengthen, and walk with us. God will use our pain for His gracious purpose.