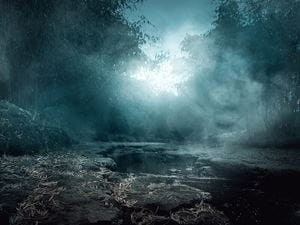 Shutterstock.com
As Christians, we are constantly enduring spiritual battles. It is difficult to find peace when we're in a severe warzone. We face spiritual battles in our personal lives. We also deal with spiritual warfare in our minds. First Corinthians 10:3-5 says, "They all ate the same spiritual food and drank the same spiritual drink; for they drank from the spiritual rock that accompanied them, and that rock was Christ. Nevertheless, God was not pleased with most of them; their bodies were scattered in the wilderness." There are a few satanic strongholds that can hold us captive that we need to pay attention to. One of the greatest ways to prepare for warfare is with prayer and scripture. Here are six ways to practice spiritual warfare God's way.
Be Strong in God's Mighty Power
The enemy will try to attack you when you are at your weakest point, both physically and emotionally. This is what the devil attempted to do with Jesus after he had fasted for 40 days. Matthew 4:2-3 says, "[Jesus] had fasted for 40 days and 40 nights, and afterward, He was famished. The tempter came and said to Him, 'If indeed you are the Son of God, command these stones to become loaves of bread.'" The enemy targeted Jesus when He was at one of his lowest physical points. If you are constantly nursing your weaknesses, you will never be free. The enemy will try to hold you in his grasp and will keep you in that space. Thankfully, God reminds us in Ephesians that we can be strong in God's mighty power to prepare for spiritual warfare. Ephesians 6:10-11 says, "Finally, be strong in the Lord and in the strength of his power. Put on the whole armor of God, so that you may be able to stand against the wiles of the devil." If you trust in God's mighty power, there is no attack from the enemy you can't handle.
Trust in God's Word
Exhaustion is a major sign that you are under spiritual attack, especially when it's getting in the way of your spiritual walk. When you feel like your energy is gone, this may be a sign that you are under siege. These types of feelings will keep you from doing the things that God intends for you. Isaiah 40:30 says, "Even the youths shall faint and be weary, and young men shall feel exhausted." When we wait on God, it can renew our strength and empower us. The Bible reminds us that we are protected by God during all forms of spiritual attack. Second Thessalonians 3:3 says, "But the Lord is faithful, and He will strengthen you and protect you from the evil." When we trust in God's Word, we can take on any spiritual battle that comes up.
Let Go of the Enemy's Distractions
The devil will try to attack you when you are at the start of your spiritual journey. The enemy loves to try to destroy your relationship with God and your faith. Following Jesus' attack by the enemy, He started His public ministry. Matthew 4:17 says, "From that time Jesus began to proclaim, 'Repent, for the kingdom of heaven has come near." The devil attacked Him, knowing that Jesus was getting ready to start His public ministry. This didn't deter Jesus. We should turn to Jesus, for example, when we're on a new spiritual journey. The enemy will try to sabotage you and stop you from expanding the mission of Christ. Don't let the enemy stop you or distract you. Second Corinthians 10:4-5 says, "The weapons we fight with are not the weapons of the world. On the contrary, they have divine power to demolish strongholds. We demolish arguments and every pretension that sets itself up against the knowledge of God, and we take captive every thought to make it obedient to Christ." We are blessed with a reminder from God that the spiritual weapons we're offered have great power.
Be on Guard
The enemy will also try to attack you when you're frustrated. When you are under spiritual attack, the devil will use situations to repress your mind and bring on frustration. During these periods, you may feel anxious, agitated on edge. During these moments, conversation with your loved ones can turn into explosive arguments. You may even feel like you're going through a roller coaster of emotions. You may feel like you're out of character. Don't think this is just in your head. When you're facing this spiritual attack, you must be on guard. First Perter 5:8-9 says, "Be alert and sober-minded. Your enemy, the devil, prowls around like a roaring ion looking for someone to devour. Resist him, standing firm in the faith, because you know that the family of believers throughout the world is undergoing the same kind of sufferings." When you're on guard, you will be alerted when the enemy is lurking around you.
Submit Yourself to God
The enemy will try to lure you by promising quick fixes, especially when you're dealing with hurt and pain. The devil wants you to think he has all the answers, so you lose your faith in God. He may feed you bad words when your relationships are having issues. He will even try to make you think that God isn't in your corner and doesn't care about what you're going through. Thankfully, we have this beautiful assurance when we're facing a spiritual attack. James 4:7 says, "Submit yourself, then, to God. Resist the devil, and he will flee from you." One of the best ways to prepare for a spiritual battle is to submit yourself to God. You will always be protected and never disappointed.
Focus on the Love of God
The enemy tries to attack us when we are at our weakest, most vulnerable point. Often, this occurs when we're alone. Matthew 4:1 says, "Then Jesus was led up by the Spirit into the wilderness to be tempted by the devil." The enemy can sense when you're alone. When we're facing a spiritual battle, it's important to focus on God's love which is always present in our lives. Romans 8:37-39 says, "No, in all these things, we are more than conquerors through Him who loved us. For I am convinced that neither death nor life, nor angels nor demons, neither the present nor the future, nor any powers, neither height nor depth, nor anything else in all creation, will be able to separate us from the love of God that is in Christ Jesus our Lord." Focus on the love of God, and there is no battle you won't be equipped to face.
We are always going to be at war with the enemy and must be prepared for spiritual attacks. The devil isn't responsible for every bad thing that occurs in our lives, but he plays a role in many of them. If we are not paying attention, he can really destroy us. We can take on all spiritual attacks when we're we trust in Jesus' love and protection.