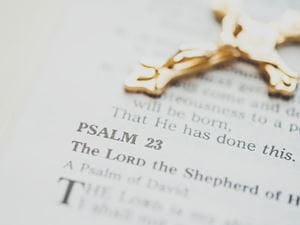 Unsplash.com
Trusting God with everything can be a sensitive topic. Every child of God has a different story – some smoother than others. One of the most frequently asked questions by Christians is, "Why?"
Why is this happening to me God? Why would you put this upon my shoulders? Why me?
During these times of why, the Bible reinforces (and in some cases reinstates) our trust in God.
"Have I not commanded you? Be strong and courageous. Do not be afraid; do not be discouraged, for the Lord your God will be with you wherever you go." Joshua 1:9 "Those who know your name trust in you, for you, Lord, have never forsaken those who seek you." Psalm 9:10 "Trust in the Lord with all your heart and lean not on your own understanding; in all your ways submit to him, and he will make your paths straight." Proverbs 3:5-6
Still, despite the scriptural reinforcement, Christians struggle to trust in God because they are only seeing the dark and dreary sadness they are knee deep in. For those troubled individuals, they must relearn how to trust their Lord and Savior. Ultimately it is a process. Here are the steps Christians should take.
Make it Habitual
Research has revealed that it takes 66 days to create a habit. It sounds like a long span of time, but the reality is it's not. Incorporate God into your daily routine by journaling your feelings and prayers, speaking to God through prayer, attend church regularly, put God first and give him credit for the blessings in your life. Making your connection with God a habit is the perfect way you can learn how to trust in God.
Do the Research
It's simple, read the Bible. But don't just "read" it, learn it. Study the scripture and take the time to assess the meaning. It's human nature to compare yourself with others – even though jealous and envy is a sin, we are guilty of this act. Instead of blindly being jealous, get educated on the facts. Research what happen in the Bible and compare your scenario with history. Not only will you identify a closer relationship to your Christian faith, you'll discover a newfound appreciation for those who also sacrificed the unthinkable.
Identify God's Promises
In many cases, God's promises can be misconstrued and wrongfully analyzed. It is crucial that we, as Christians, thoroughly understand His promises. Whether Christians are influenced or feel let down because of an unanswered prayer, Christians must learn what the Lord has actually promised. God never promised healing from an illness or success within an entrepreneurial endeavor. Seek out help from your small group leader or other church resources as you translate promises from the Old Testament because sometimes there is specificity that is often overlooked.
Be Vulnerable and Share Your Heart
Cry out to God and trust God with everything. Proverbs 3:6 says this best, "in all your ways acknowledge him, and he will make your paths straight." By sharing your fears and honest opinions, we as Christians are shedding our shields and subconsciously acknowledging God as the higher power. We show him, and ourselves, that we're able to leave our troubles, burdens, and dreams in his capable hands. He hears you!
Stay Away From Evil
There is an absurd amount of hatred in the world and as Christians it is our job to stay away – and ultimately, see the good. Our blessings can easily become our own obstacles that cause us to trip and fall hard. Challenge yourself to work on establishing the patience you need to overcome these daily pitfalls. Trusting God with everything is one of the best ways we, as His children, can live by separating ourselves from the bad influences that surround us. Pursuing a deeper relationship with the Lord and trusting Him is exactly what you need versus temptation.
We are reminded of this practice in 2 Timothy 2:22, "Flee the evil desires of youth, and pursue righteousness, faith, love, and peace, along with those who call on the Lord out of a pure heart."
Rest and Reflect
Study after study has proven that sleep deprivation and exhaustion can noticeable affect a person's performance, including their ability to think clearly, react quickly, and form memories. Furthermore, there are health issues associated with lack of rest and sleep – high blood pressure, heart disease, obesity, and even diabetes. Grant yourself the opportunity rest and pay attention to your renewed results and attitude. You will be incredibly more amicable if you can see and understand things with a restful mind and vision.
Even the Lord valued rest. He proclaimed Sunday his day of Sabbath and recognized the importance of rest. Through rest and reflection, you will learn how to trust God and identify the bigger picture.
Trusting God with everything can be an ongoing process when you are presented with troublesome times and/or hardship. It is important to never lose sight of the Lord and your Christian faith. The saying 'what doesn't kill you makes you stronger' is very true. Without trials and tribulation, Christians wouldn't be able to fully appreciate the blessings the Lord has provided. In many cases, difficulties provide Christians with the opportunity to grow and prove their worth to themselves. If everything was handed to us on a silver platter, we would never appreciate value and our God would not be valued.