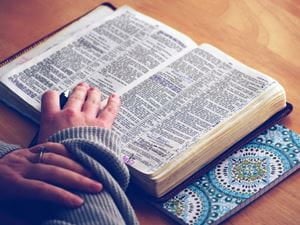 Canva.com
A very dear friend of mine passed away recently. She was 89-years-old and lived in a nursing home. I used to visit her every week, and at the end of our visits, we would hold hands, and she would recite the 23rd Psalm from memory. It was our little ritual.
Most of us know how the 23rd Psalm starts – "The Lord is my shepherd…" And some of us probably could recite the whole psalm from memory, like my friend. The words are like poetry. They are pleasing to the ear.
But the passing of my friend this week made me think about the meaning of those words. And as I pondered them, I realized that they truly are a guide for a happy life. There is no scenario for which you cannot find guidance and comfort in the 23rd Psalm.
The Lord is my shepherd; I shall not want.
In the first words of the psalm, the writer makes a clear declaration about who leads his life – God. God is his shepherd. Think about a shepherd. A shepherd guides his sheep. He watches over them. The shepherd is in control of the direction of the flock, and the sheep obey his commands.
The psalmist is effectively saying that he is a sheep, and that he has submitted his life to God, his shepherd. God will guide his path. And in return, he expects that God will meet his needs. That is how he has structured his life.
Like the psalmist, if we allow God to lead us, if we allow Him to direct our every decision, we too shall not want. All our needs will be met. They may not be met in precisely the way that we would like. But they will be met. Now, of course, committing your life to God isn't easy. There will be sacrifices. You'll have to turn the other cheek. At times, you'll have to serve others when you just would like to satisfy your own needs. But in the end, if you choose to follow God, He will ensure that you are cared for.
He maketh me to lie down in green pastures: He leadeth me beside the still waters.
Notice that the writer doesn't say, "God leads me to be really busy. He gives me a long to-do list." Instead, the psalmist tells us that God offers the opposite. He offers us rest.
Envision a green pasture or a slow-moving stream. That is what God wants for you. He wants you to live in peace and serenity. You simply have to let Him lead you there.
He restoreth my soul: He leadeth me in the paths of righteousness for His name's sake.
Here the writer tells us that God isn't only concerned about our physical and emotional well-being. He also is concerned about our spiritual health. God wants to make us spiritually healthy. And the way He does that is by leading us on the right path.
If we follow His path, He will lead us away from sin and all the negative behaviors that hurt us. Instead, he leads us in the path of righteousness, meaning "right behavior."
God knows that we cannot be spiritually healthy if we sin. If we hurt others, either physically or emotionally, we damage our souls. Likewise, we cannot be spiritually healthy if we disrespect ourselves by abusing food or alcohol, or by being promiscuous. God wants to lead us away from all that. He wants to restore our souls and lead us to spiritual health. All we have to do is follow Him.
Yea, though I walk through the valley of the shadow of death, I will fear no evil: for thou art with me; thy rod and thy staff they comfort me.
Here, the psalmist reminds us that we need not fear anything, not even death. He tells us that God never will leave us. And when we suffer, He will comfort us.
Often, we forget that God is with us. The problem is that in difficult times, when we are overwhelmed, we can't see God. We can't hear His voice. And it is easy to believe that He has abandoned us.
I felt that way, many years ago, when my husband was on life support after an operation. I wondered if God had abandoned me. During that time, I felt very alone. And yet, looking back, I can see now that God was with me. He gave me the presence of mind to communicate with the doctors and be part of my husband's recovery. God helped me to arrive at the hospital each day with a positive attitude, so that I could encourage my husband. He watched over me as I drove to and from the hospital each day. God did not abandon me.
Even in our darkest hour, God is with us. If we keep that in mind, then we can face any adversity without fear and in confidence that we are not alone. And that is a true comfort.
Thou preparest a table before me in the presence of mine enemies: thou anointest my head with oil; my cup runneth over.
Effectively, what the writer is saying here is that God has prepared him for victory in life. And God hasn't done so secretly. God has blessed the writer in front of all his enemies. He has anointed him, and thereby declared publicly that the writer is special and favored. He has given the writer everything that he needs to succeed.
The archaic, battle language of this verse is tricky for us to related to today. But what we should take away from the passage is this: We don't have to fight our battles with our own wits and resources. If we allow God to be our shepherd and lead us, He in turn will fight our battles for us.
So, if you simply follow God by being kind, good and reasonable in all matters and with all people, God will resolve situations in your favor. You just have to be patient. He will give you everything that you need to succeed. Realize that no person can destroy God's plans for your life. You simply need to do your best to be a good person, and God will deal with your enemies.
Surely goodness and mercy shall follow me all the days of my life: and I will dwell in the house of the Lord for ever.
The psalmist concludes with a message of hope. If God is his shepherd, then his life will be good. He will be blessed, and he will receive mercy (or forgiveness), when he goes astray.
The psalmist's message is true for all of us. If there is anything that we can learn from the 23rd Psalm, it is this: Let God be your shepherd. Let him lead your life. Make all your decisions in accordance with His will. Be kind, generous and good at all times. If you simply let God lead your life, He will take care of you. In fact, goodness and mercy will follow you. You won't be running after them.
The 23rd Psalm truly is a short guide for living a good life. It is a mere six-verse psalm that has an abundance of wisdom. I encourage you to not just memorize it. Instead, meditate on its words. Let those words sink into your soul, and let this psalm be a guide for your life.