St. Lucy (d. 304)
---
Public Domain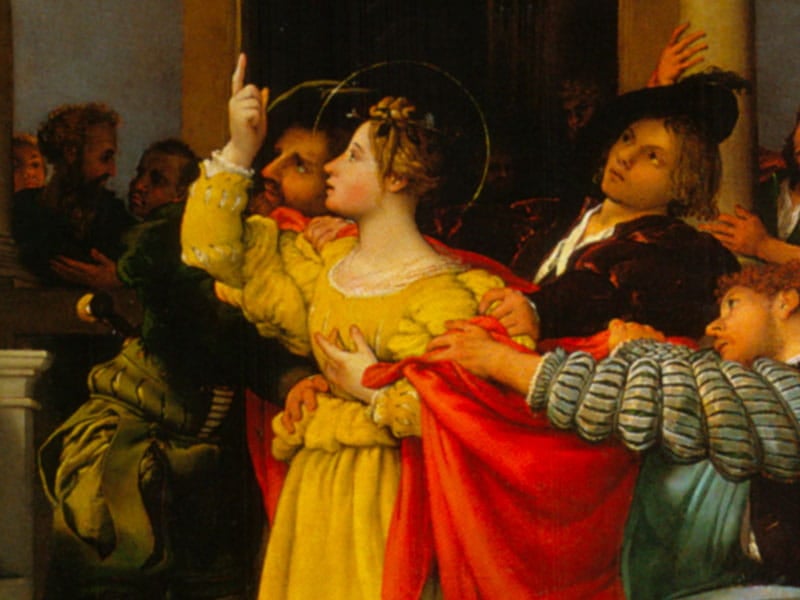 Every little girl named Lucy must bite her tongue in disappointment when she first tries to find out what there is to know about her patron saint. The older books will have a lengthy paragraph detailing a small number of traditions. Newer books will have a lengthy paragraph showing that there is little basis in history for these traditions. The single fact survives that a disappointed suitor accused Lucy of being a Christian and she was executed in Syracuse (Sicily) in the year 304. But it is also true that her name is mentioned in the First Eucharistic Prayer, geographical places are named after her, a popular song has her name as its title and down through the centuries many thousands of little girls have been proud of the name
Lucy
.
One can easily imagine what a young Christian woman had to contend with in pagan Sicily in the year 300. If you have trouble imagining, just glance at today's pleasure-at-all-costs world and the barriers it presents against leading a good Christian life.
Her friends must have wondered aloud about this hero of Lucy's, an obscure itinerant preacher in a far-off captive nation that had been destroyed more than 200 years before. Once a carpenter, he had been crucified by the Roman soldiers after his own people turned him over to the Roman authorities. Lucy believed with her whole soul that this man had risen from the dead. Heaven had put a stamp on all he said and did. To give witness to her faith she had made a vow of virginity.
What a hubbub this caused among her pagan friends! The kindlier ones just thought her a little strange. To be pure before marriage was an ancient Roman ideal, rarely found but not to be condemned. To exclude marriage altogether, however, was too much. She must have something sinister to hide, the tongues wagged.
Lucy knew of the heroism of earlier virgin martyrs. She remained faithful to their example and to the example of the carpenter, whom she knew to be the Son of God. She is the patroness of eyesight.