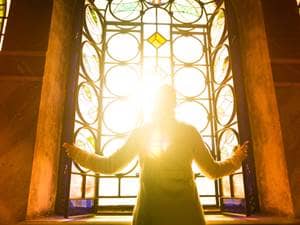 Shutterstock.com
Faith is recognized by most as the single-most important element in the life of Christians. We are told in Hebrews 11:1 that "Faith is the assurance of things hoped for, the conviction of things not seen." When we have faith in God, we trust not only that He is there, but also in His promises. Hebrews 11:6 reminds us that "without faith, it is impossible to please God, because anyone who comes to Him must believe that He exists and that He rewards those who earnestly seek Him." Faith is a personal and communal relationship. Trusting in God's promises requires that we build godly faith. Having faith in God is a key part of being a Catholic and going to Mass is a key part of the Catholic faith. The Mass has always been the central form of Catholic worship. If you're interested in learning more about the Catholic faith and worship, here are five things you should know about Mass.
Arrive early for centering and meditation.
If you're new to mass, it's helpful to get there about 10 minutes or so before the start of Mass so you have ample time to pray, meditate and center yourself. Prayer is a key way Catholics live out their faith. Acknowledge our Heavenly Father as holy. Start with [My] Father who art in heaven, Hallowed be thy name. (Matthew 6:9). Ask God for the fullness of the Holy Spirit to be at play in your life. "If you then, who are evil, know how to give good gifts to your holy children, how much more will the heavenly Father give the Holy Spirit to those who ask him?" (Luke 11:13). Ask also that you may be a clearing for love, and understanding. Ephesians 3:19 tells us "and to know the love of Christ that surpasses all knowledge, that you may be filled with the fullness of God." When we recognize this tremendous love God has for us, we are filled beyond measure.
Contrary to popular belief, there are many churches where parishioners are urged to greet one another and talk. One of the great things about Mass is that it's a time to be able to talk and catch up with people before things get going.
You will make the sign of the cross… a lot.
Catholics make the sign a lot as they pray. You will see this often if you attend Mass. The cross shows the depth of our sins. We don't realize what sin is in the sight of God, how deeply it offends Him and how it separates us from Him. The sign of the cross, for Catholics in particular, is a powerful symbol that represents that Jesus died on the cross to redeem humanity. The image of Christ's body on the cross is used to represent His sacrifice. Many Christian denominations use a bare cross to emphasize Jesus' resurrection.
It is not all about tradition.
Catholics, who consider themselves to be the original Christians, try their best to hold the same traditions that the church held in the first century. While tradition is important to Catholics, it is not the sole source of their belief system. Traditions are simply ways for Catholics to honor and celebrate God and their faith. These traditions have meaning and are meant to bring them closer to God. You will see many of these traditions during Mass. There is also a common misconception that Catholics made up all their rules, when in fact all traditions in the Catholic Church have biblical roots. The history of the Catholic Church is built on the foundation of Jesus Christ and His teachings.
You will do more than sit, kneel and stand.
People commonly think that all Catholics do is sit, kneel and stand at Mass. Just because these things happen, doesn't mean this isn't a form of worship. While the style of worship may be different than the way others do, Catholics are worshiping. Each of these movements have meaning. Bending the knee, bowing their heads and speaking the words together are all very sacred and meaningful for Catholics, all to express their praise and glory to God. Despite popular belief, many Catholics get enjoyment out of listening to contemporary Christian artists like Christy Nockels and Chris Tomlin, but they also love their worship hymns.
Let go of any fear.
You may be nervous going to Mass, especially if it's your first time. What do I do? Is it OK for me to receive communion? Why is there so much kneeling? While these questions may run through your mind, there is no need to fear. Arrive a little early so you have time to great others and ask any questions you might have to regular parishioners. The Book of Isaiah reminds us that we do not have to fear: "So do not fear, for I am with you; do not be dismayed, for I am your God. I will strengthen you and help you; I will uphold you with my righteous right hand." (Isaiah 41:10). If we are afraid but we place our trust in God, there is nothing we have to fear. Philippians 4:6-7 is a great reminder of this: "Do not be anxious about anything, but in every situation, by prayer and petition, with thanksgiving, present your requests to God. And the peace of God, which transcends all understanding, will guard your hearts and your minds in Christ Jesus." When we begin to let go of the idea that we're in charge and allow God to take the lead, we are building Godly faith.
Catholics love their faith and despite some aspects related to the history of the church and common misconceptions, their faith, worship and traditions all help bring them closer to God. Attending Mass will help you learn more about the Catholic faith and how they live out their faith.