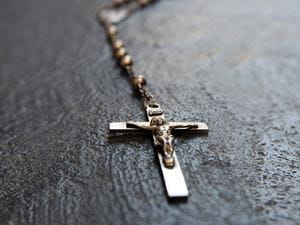 Shutterstock.com
Faith is recognized by most as the single-most important element in the life of Christians. We are told in Hebrews 11:1 that "Faith is the assurance of things hoped for, the conviction of things not seen." When we have faith in God, we trust not only that He is there, but also in His promises. Hebrews 11:6 reminds us that "without faith, it is impossible to please God, because anyone who comes to Him must believe that He exists and that He rewards those who earnestly seek Him." Faith is a personal and communal relationship. Trusting in God's promises requires that we build godly faith. Having faith in God is a key part of being a Catholic. According to the United States Catholic Catechism for Adults, faith is first of all a personal adherence…to God. At the same time, it is a free assent to the whole truth that God has revealed (CCC, no. 150). We can choose to be in greater relationship with God. By doing this, we can grow in our faith. Here are five transformative ways to live out your Catholic faith.
Humble Yourself Before God
One great way for Catholics to live out their faith is to humbly walk beside God. We are told in James 4:10 "Humble yourselves before the Lord, and He will lift you up." We are also told in Psalm 25:9 that "He guides the humble in what is right and teaches them His way." Humility allows us to open our hearts and find peace in all circumstances. If we want to walk humbly with God, it's important that we recognize that we are not in control, but that God is. The Enemy wants you to believe otherwise, and will do everything in his power to sabotage your relationship with God. He wants worry, anxiety and fear to consume you in an effort to overwhelm you and have you believing that there's no way to pull yourself out of the darkness. But God promises us something greater.
Let Go of Fear
Another great way for Catholics to live out their faith is to let go of any fear that is separating them from God. The Book of Isaiah reminds us that we do not have to fear: "So do not fear, for I am with you; do not be dismayed, for I am your God. I will strengthen you and help you; I will uphold you with my righteous right hand." (Isaiah 41:10). If we are afraid but we place our trust in God, there is nothing we have to fear. Philippians 4:6-7 is a great reminder of this: "Do not be anxious about anything, but in every situation, by prayer and petition, with thanksgiving, present your requests to God. And the peace of God, which transcends all understanding, will guard your hearts and your minds in Christ Jesus." When we begin to let go of the idea that we're in charge and allow God to take the lead, we are building Godly faith.
Pray Hard
Another way to transform your faith is through prayer. Acknowledge our Heavenly Father as holy. Start with [My] Father who art in heaven, Hallowed be thy name. (Matthew 6:9). Ask God for the fullness of the Holy Spirit to be at play in your life. "If you then, who are evil, know how to give good gifts to your holy children, how much more will the heavenly Father give the Holy Spirit to those who ask him?" (Luke 11:13). Ask also that you may be a clearing for love, and understanding. Ephesians 3:19 tells us "and to know the love of Christ that surpasses all knowledge, that you may be filled with the fullness of God." When we recognize this tremendous love God has for us, we are filled beyond measure.
Let Go of the Ego
In an effort to transform our faith and be filled with the fullness of God, we have to let go of our ego. Pride, and the constant focus of self can get in the way of us building a stronger relationship with God. 1 Peter 5:5 warns of us of pride: "Likewise, you who are younger, be subject to the elders. Clothe yourselves, all you, with humility toward one another, for 'God opposes the proud but gives grace to the humble." Focus on the spiritual gifts God offers us each day, even though we are completely unworthy. Also focus on how you can provide in the well-being of others, especially those who are suffering, and those who don't know Christ.
Focus Our Heart and Mind on God
We build stronger faith when we give all of our heart and mind to God, not things of the world. Matthew 6:21 is a great reminder of this. "For where your treasure is, there your heart will be also." Proverbs also reminds us that it's important that we protect our hearts. "Above all else, guard your heart, for everything you do flows from it." Scripture is clear about the importance of the heart and what rests there. When we focus too greatly on things like money, power, material possessions, and self, we make those our idols and separate ourselves from God.
If you're Catholic, and ready to not only strengthen but also strengthen your relationship with God, refer to Psalm 51:10. Ask God to create in you a clean heart and renew a right spirit within you. No need to focus on fear, your faults, or your past. Know that today is a new day, and that God wants you walking humbly beside Him. Surrender yourself today.