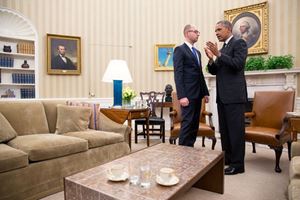 Ukrainian Prime Minister Arseniy Yatsenyuk vowed that the people calling for Jews to register will be punished. Anti-Jewish leaflets demanding that Jews register or be expelled were distributed by masked men in the city of Donetsk after Passover causing many believe the future is perilous.
Yatsenyuk made a clear statement on "Meet the Press" urging the Ukrainian military to "find these bastards."
"I made a clear statement and urged Ukrainian military and security forces and Ukrainian Department of Homeland Security urgently to find these bastards and to bring them to justice."
Anti-Semitism is rising in Eastern Ukraine and the PM already promised to expand security in the region as reports of violence included a synagogue being firebombed and a synagogue was also targeted. Last year a man was stabbed on his way home from the synagogue and a Holocaust memorial was defaced, according to the Israel National News in March.
Violence has escalated in the country since the ousting of pro-Russian PM, who fled the country to Russia in February. Donetsk has a large Jewish population with an estimated 20,000. The Jewish community is the third largest community in Europe according to the World Jewish Congress. The breakup of the Soviet Union has seen a decrease in anti-Semitism, but it has resurfaced.
President Moshe Kantor of the European Jewish Congress said Jewish life in Europe is not stable, nor do Jews feel safe in some communities in Europe.
In a recent report from the Kantor Center for the Study of Contemporary European Jewry at Tel Aviv University, the future looks uncertain. Data collected in 2013 found there were over 500 violent act committed against Jews with France leading the charge, Hungry came in second, Sweden, and then Russia.
"According to that survey, almost half of the Jewish population is afraid of being verbally or physically attacked in a public place because they are Jewish, and 25 percent of Jews will not wear anything that identifies them as Jewish or go near a Jewish institution for fear of an attack," Kantor told the Israeli press.
Top Photo: Ukrainian Prime Minister Arseniy Yatsenyuk meets with US President Barrack Obama at the White House.
Official White House Photo by Pete Souza