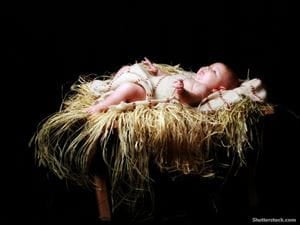 As true disciples of Christ, we are called to put Jesus first. There are countless verses in the Bible about keeping Christ at the center of our lives. Matthew 6:33 says, "But seek first the Kingdom of God and His righteousness, and all these things will be added to you." When we put Jesus first, we make Him a top priority over everything else in our lives. He becomes the principal figure in every single thing we do and becomes central to how we see the world. When we choose to put Jesus first, we are determining that He is more important than any other person, His Word is more precious than any other message, and His Will is more significant than any other. If you have fallen off course with Jesus or simply want to get closer to Him, Christmas is a great time to hit the reset button and draw closer to Him. This is the time of year where we celebrate the birth of Jesus and the importance this powerful symbol of love means to our lives. Here are six prayers to put Jesus first this season.
There's nothing we can do without Jesus.
The Bible tells us, "Cast all your anxiety on Him because He cares for you" (1 Peter 5:7). This season, your heart may be full of stress and anxiety, but when you put Jesus first, God will place a calm over you. The wonderful part of this is that when Jesus comes over us, we are healed, restored, and our lives are transformed. Pray this prayer to remember that there's nothing we can do without Jesus this season: Dear Lord, today I choose to put You first. I acknowledge that without You, I can do nothing. I invite You to have your way in my life as I seek You first in all that I do in Jesus' name. This season, help me reflect on this prayer and focus on Your ongoing presence in my life. Without You, I am nothing. Amen.
Light my path and direct my way.
Psalm 119:105 says, "Your word is a lamp for my feet, a light on my path." When we trust God's Word, it helps the world become a little less chaotic and a bit more grounded. When we trust in God and the love He has for us, we know that we are adequately guided. If you are ready to let Jesus light your path and direct our way, pray this prayer: Dear Lord, thank You for Your Word, which lights my path and directs my way. This season, I choose to put You in the first place. I choose to meditate on Your Word, knowing that You are leading me in Your paths of life, in Jesus' name. Amen.
Thank You for the gift of grace.
Grace is the most critical concept in Scripture. It is the love of God shown to us, a love that passes all human understanding. It is God reaching down to us, even when we're constantly resisting and pushing back against Him. It is offered to us through the birth of Jesus and His death on a cross. If you are ready to acknowledge God's gift of grace through Jesus this season, pray this prayer: Dear Lord, You have commanded us and given us the grace to love one another as You have loved us. As we keep our focus on You, this season helps us look with Your eyes and love beyond all understanding. May we see the needs of others before ourselves. May we love and serve one another as we are called to do in You. Amen.
You are there in all circumstances.
John 14:27 says. "Peace I leave with you, My peace I give to you. I do not give to you as the world gives. Do not let your hearts be troubled and do not be afraid." There will be times when life gets hard, and our hearts are filled with anxiety. The Christmas season is a great time to reflect on Jesus' presence. No matter what you're going through, Jesus is right there, listening to and addressing your needs. Pray this prayer to remember that He is there in all circumstances: Dear Lord, guide my path today. In this season of waiting, help me remember that nothing will happen to me today that You and I can't handle. It's easy to get lost in the pressures and anxieties of this world. Help me to recognize that You are there in my highest and lowest moments. Amen.
Help me to let go of the distractions.
Prayer has the power to change our hearts. It may seem like it's difficult to set aside time for prayer during one of the busiest seasons but making time for prayer is more beneficial than you think. In fact, it is one of the best things that can happen. If you're ready to let go of the directions around you, pray this prayer: Dear Lord, distractions seem to be everywhere, especially during this season. It's hard for me to focus, let alone pray. I feel as though I am being pulled in so many directions at once. Please remove these distractions from my life. Help me to focus and get things accomplished in a way that You can be proud of. I pray that I can better serve You in the year to come. Amen.
Help me to follow Your guidance and Will.
It's easy to get lost in this world, especially with so many forces pulling us in so many directions. This is why we must eliminate all the negative voices and forces that are trying to silence Jesus. When we trust Jesus' guidance and Will, there is nothing we can't do. If you are ready to allow Jesus to guide us the season, pray this prayer: Dear Lord, First Thessalonians 5:16-18 reminds us to 'Rejoice, always, pray continually, give thanks in all circumstances' as this is the Will of God for us in Jesus Christ. This season, help me to follow Your guidance and Will. It's easy to get lost in my day-to-day responsibilities and tasks. Help me to see that focusing on You is more important than any task set before me. Amen.
Guide me to surrender.
Surrendering is difficult. It requires us to release control and allow Jesus to lead and guide us. If you struggle to surrender, you're not alone. This season, challenge yourself to truly let go and let God. Surrender yourself so that Jesus can direct Your paths. This is one of the reasons He was sent down to us, to direct our paths. Pray this prayer to surrender your mind, heart, and spirit to Jesus: Dear Lord, this season, I offer every thought to You and place my focus on You. I choose to release my cares and concerns to You, so I can pay attention to Your goodness in my everyday life. Thank You for the gift of faith which helps me see the impossible become possible. I will continue to place my hope and confidence in You. Remind me that there is no more remarkable example of hope in my life than You being sent down into the world and reflect that gift of love in everything I do in my future days. Amen.
The Christmas season is a great time to reflect on the presence of Jesus and how He is at work in your life, even when it's hard to see Him. It can be easy to get lost in the chaos of life, but Jesus is right there beside us, never letting us go in any situation alone. His presence is real. Take time out during this special time of yea