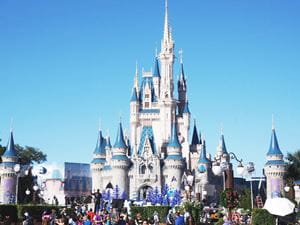 Pixabay.com
A fun-filled Disney vacation is something that every family should have the pleasure of experiencing at least once. Unfortunately, with costly food, high ticket prices, and massive travel and lodging expenses, this is one dream that can seem far beyond the means of many families.
Guides to heading to Disney on the cheap are all over the internet, but many of these rely on tricks that are either impractical for the average family, or are just plain dangerous. You need tips that will get you to Orlando, let you stay somewhere comfortable, and allow you to spend the day in the park without starving, and all while avoiding the three thousand dollars in expenditures that's average for a family of four.
Fortunately, with some careful planning and a little legwork, you'll find the secret to planning a fantastic Disney vacation on a budget. We can help you do that.
These are practical tips that anyone can use, and you can even take what you learn here and apply it to any big vacation your family takes in the future. So let's get right into it and take a look at 5 great ways to enjoy Disney World without breaking the bank.
Travel Cheap
The first step to a relatively cheap Disney vacation lies in how you get there. If you've got a big family, driving is nearly always going to be cheaper than flying, so load up the minivan.
Not only will driving to your destination save you the cost of expensive airfare, but you'll also avoid the expense of renting a car once you get there. Orlando isn't exactly known for its walkability, and its mass transit system isn't the best, so you'll need a way to get around.
Before you set out, make a meal plan. Buy groceries—that's right, no restaurants—and stock a couple of coolers with everything you'll need on the way. There are sure to be plenty of parks and rest stops along the way that have picnic tables at which your family can eat. For a bigger family, doing this will save you hundreds on the way there and back.
Once you arrive in Orlando, Disney does provide free transportation for those staying in its on-site hotels, but don't let that tempt you to fly. As you're about to see in the next step, you'll be needing that car.
Pick an Outside Hotel
Normally, the hotel stay is the most expensive part of a Disney vacation, but you're not going to stay in official Disney digs—you're going to find an offsite hotel and do a little driving.
Check out local hotels that are fairly close to the park—nothing more than a few miles away. After all, you don't want to spend your vacation in traffic. But even going just a few miles outside of the Disney area drops the price of hotels by an appreciable amount—sometimes hundreds of dollars.
To give an example, the cheapest rooms in the official Disney hotels begin at nearly 300 dollars a night. Hotels just a mile or two away are as cheap as 99 dollars a night. That's a big savings, and well-worth a little driving each day.
Once you get there and settle in, don't order room service or add anything fancy to your hotel stay—you're here to sleep, and that's it. Save the fun for Disney World.
Know When to Go
Don't wait until you get to the park to obtain your tickets—that's going to cost you. Instead, head over to Disney World's official website and buy them in advance.
But don't stop here—you need to know when to buy them, too. Depending on the time of year, the price of tickets and park food fluctuate, and certain times of year are definitely more expensive than others.
Obviously, the summer months are the most expensive, but who wants to go when it's hot—and not just hot, but plastic-melting, Florida hot? And who wants to deal with those massive crowds of stinky summer tourists?
Not you! You're going when it's cooler, because you're smarter than that.
The cheapest times to visit Disney World are mid-November through mid-December, and mid-January through mid-February. Late August through September can also be cheaper than the rest of the year.
Carefully plan the date of your Disney trip, and you can save yourself a lot of cash in the end.
Bring Your Own Food
Few consider this, but eating within walls of Disney World is one of the biggest expenses of the trip.
That's why you're not going to do it. Not much, anyway.
Disney World has some great themed restaurants, so go ahead and plan one or two fun, food-filled outings in the park. It's part of the experience.
But don't eat every meal in the park, or you're going to end up with an empty bank account before you can say "Mickey stole my wallet!"
Instead, remember those groceries? You're going to bring your own food in.
Disney allows guests to bring food items into the park, as long as they do not require heating. So things like sandwiches and chips—anything that will stay good for a few hours in a backpack—are perfect, and will help you avoid spending 20 dollars per person at every meal.
So enjoy the park, eat out a couple of times, but save your money on the rest of your meals—your bank account will thank you.
Check for Special Offers
Finally, as you're planning your trip, be sure to check for any special offers that might be available to you.
Disney has their own special offers page that is filled with discounts of all sorts, where you can find everything from offers on free dining plans to great discounts on Disney hotel rooms.
Look for other opportunities, as well. Websites like Undercover Tourist sometimes offer tickets at a reduced rate. If you're a member of the military, AAA, or are employed by a school or university, you can often get discounted rates through your respective organization.
Remember this magic idea: you'll never get what you don't ask for. If you want to save money, put on your detective hat, put up your magnifying glass, and start asking around.
An Experience to Remember
A Disney vacation is an unforgettable experience, and as you may have read, experiences are better investments than things. So instead of buying that big flat-screen or leather couch, be willing to spend a little money on something your family will remember for years to come.
But if you follow these tips, you won't have to break the bank for this particular experience, so get planning and get going. Your castle awaits!