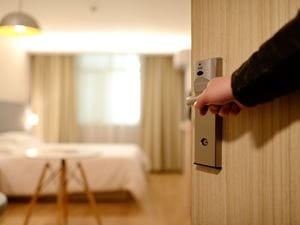 Pexels.com
Staying at a hotel is a standard part of the travel experience; you'd believe the process is foolproof. However, people still make mistakes and sometimes pay the price, especially regarding booking travel accommodations. Whether these mistakes cost valuable money and time or otherwise ruin the vacation experience, it's worth avoiding these hassles. Here are some common mistakes travelers make when booking a hotel.
Choosing a hotel based only on price.
It may sound tempting, but you shouldn't just book the hotel. Before choosing a hotel, you should read reviews from various sources. Whether it's inconveniently located or poorly reviewed, there may be a reason why the hotel is so cheap. You should check the hotel's location on Google Maps and determine if it's a good place for your home base. Sometimes, travelers underestimate the importance of optimizing for location. Saving some money by staying further away from your preferred activities and neighborhoods might sound tempting initially. Still, it can result in increased money and time spent on transportation on your trip. Prioritize proximity and convenience to your preferred destinations when selecting your hotel.
Forgetting resort fees.
Unfortunately, third-party booking sites and hotel websites typically hide resort fees until the last second. Most people have already filled out their payment and personal information by the time they show up. To prevent this, you should search for resort fee information before starting the booking process. That way, you better understand how much you'll pay per night. On third-party booking sites, you typically find resort fees listed at the bottom of the listing. If you don't see them, click through to the final booking page. Some hotels charge $40 or more per night in resort fees, which can add up for a multinight stay. You often don't get much for paying the required fee.
Making assumptions about parking.
Even when paying expensive resort fees, parking isn't necessarily included in that cost. If you have a car, check the hotel's parking situation. Some hotels don't have a parking lot, forcing you to find and pay expensive public parking fees. Other hotels don't have self-parking and charge valet parking fees.
Choosing the wrong cancellation policy.
One of the most significant mistakes you can make when booking a hotel is not checking the hotel's cancellation policy. While nonrefundable rates may save you some money, the hotel won't refund your money if you have to cancel. As delays and unexpected delays seem more common than ever, it makes sense to opt for flexible rates just in case. However, ensure that you correctly understand the timing. Travelers typically don't realize that the cancellation policy deadline of hotels is set in the local time zone of the hotel. If you must modify or cancel your trip, ensure you do it before the local deadline. Set a reminder for your cancellation policy deadline in your calendar to avoid last-minute surprises.
Booking a hotel with your debit card.
Besides earning points, credit cards offer protection that debit cards and cash don't, so always book your hotel with a credit card. Even some no-annual fee cards earn 1.5 percent cash back for every dollar spent and five percent cash back per dollar spent for hotels. Additionally, it offers interruption insurance and trip cancellation, which is great for peace of mind when booking hotels. Other travel credit cards with annual fees offer more benefits when booking hotels, but no-annual-fee cards are available that are more than enough for most people.
In addition to airline miles, cash-back bonuses, and airline miles, credit card benefits like immediate refunds for incorrect charges and fraud protection offer a lot of comfort when planning a vacation. With a debit card, you might have to worry about having insufficient funds for any temporary holds the hotel may require upon check-in, which can add up and take time for refunds.
Incorrectly using third-party platforms.
Another big mistake people make when booking hotels is using booking engines over booking directly with the hotel itself. For example, if you reserve directly through the Hilton or Marriott website, you can contact them when something goes wrong and get help immediately. If you use a booking engine like Expedia and there's an issue, the hotel chain typically can't help you, and you have to use the booking engine as a middleman to work out the issue instead of going direct.
As long as you know this before deciding, you're more prepared than others who a cancellation or emergency might blindside. Some people also prefer booking directly to cut out the middleman when changing or canceling a reservation. Booking directly with the hotel also guarantees you'll receive credit towards the hotel's rewards program and the opportunity to benefit if you already have status. Most hotels guarantee the lowest price when booking directly through them.
Booking the wrong location.
Something that happens surprisingly often is travelers showing up with a reservation for the night in a hotel with the same name but in a different country. It's recommended that you always double-check that you're booking the right location, as many cities and countries have hotels with the same or similar names. Because 24-hour cancellation policies are standard for hotels, finding out that you've booked the wrong hotel upon arrival means you'll be out of the money you spent on that incorrect hotel and have little to no choice over the room type left at the one where you want to stay. Ensure you always confirm the address before going on your trip.
It's an easy mistake to make while searching for hotels on booking platforms but then go directly to the hotel to book it. You can overlook the location when you Google a hotel name and click the first option. It's also a common mistake to book the wrong dates, so always ensure you double-check your dates before finalizing your reservations. It may sound obvious, but it happens more than you think. Booking a hotel is such a standard part of the traveling experience that we can make mistakes when booking. However, knowing about these mistakes beforehand can help you and save some money.