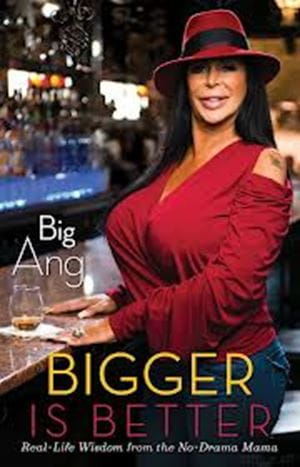 "Big Ang" Angela Raiola is a red-hot grandmother, who debuted on VH1's Mob Wives' second season, rocking the reality world with a raspy voice, magnetic personality, and a hard-fast rule of no drama.
Trying to describe this colorful eccentric woman would be a task, meaning you need to watch her in action. With this, viewers fell in love with Ang, leading to her own spin-off series on the network.
The surge to fame floored the reality star. She is soaking it up.
"I am really shocked," Raiola said after a long pause." I can't even believe what happened here. I mean it [show] just totally, totally, blew up. You know, I'm loving it. It's the best. I have been a single parent my whole life, so life was pretty rough. I've been working in bars since I was 15. It was hard. But now things are so much better."
Full-pouty lips, 36JJs, red-velvet fedoras and imported handbags--Raiola is more than an enveloping icon in designer stilettos and collagen lips. She's giving back to her community of Staten Island. Big Ang's Angels is "Rebuilding the faith and lives one brick at a time" of victims of Hurricane Sandy that devastated the region last fall.
"It was very important to give back to them. We have done 27 families so far. And we're rebuilding five homes now," said Raiola.
Raiola writes about her house arrest, bad boys and plastic surgery (She was excited to be going for a consultation with a plastic surgeon about getting work done on her neck). When I chatted with Raiola she was shopping for clothes and a few purses in a NYC showroom for her Staten Island salon, Big Ang's Secret, which flooded during the hurricane. It reopens on Feb. 14th.
What girl wouldn't want to live as "Big Ang" for a day?
She assured me I might not be able to handle it.
"I'm out of mind. It's freaking crazy. My life is bizarre, just bizarre."
Raised in Brooklyn and niece of Salvatore Lombardi, this spitfire has come a long way.
"I wanted to tell people about the real me," Raiola said who was not hesitant in writing the book. "Not at all, I was happy to write it. I wanted input from all my family and friends. Everybody spoke in the book and it went well—I was very happy."
She even talks how she killed a bat, that's right, a bat.
"I was on vacation with my family in the Catskills when out of nowhere, this bat flies right into my chest and then falls splat on the ground. Turned out, he died on impact."
What's most important? Yes, the amazing food. I heard this woman can really whip up a meal. She shares a meatball and pasta recipe in her book. But that's not it.
Family is important.
"My family is very important to me. Me and my family are very, very, close. I have four brothers and two sisters. We're always at each other's houses. We are always together."
Raiola, 52, did drive the point that women need to live life to their fullest.
"You got to get up. You have to move on. Life is too short. It can be taken from you in an instant."
Watch "Big Ang" on VH-1 and read her book Bigger is Better: Real Life Wisdom from the No-Drama Mama.