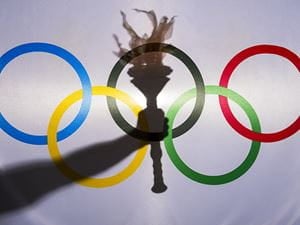 Shutterstock.com
Practicing your faith and being in the limelight is not always an easy task, especially in a world where Christians and believers are persecuted for their faithful love of God. But many celebrities and athletes are very religious and use their faith not only to train hard, but to center them throughout the games.
Olympic gymnast Simone Biles is a great example. According to an interview with U.S. Weekly, the gold medalist reportedly keeps a rosary her mother gave to her close to her always – not just before a competition. She also takes a statue of St. Sebastian, the patron saint of athletes, with her when she travels.
"My mom, Nellies, got me a rosary at church. I don't use it to pray before a competition," Biles told U.S. Weekly. "I'll just pray normally to myself, but I have it there in case."
Biles is Catholic. The only day she doesn't practice gymnastics is Sunday, so she can go to Mass with her grandparents, who adopted Biles when she was little. Her faith is very near and dear to her. But Biles isn't the only Olympic athlete who has been vocal about her faith. There are a number of other examples.
Serena Williams, who has been ranked the top tennis player in the world, has acknowledged God during her tennis wins. She uses her faith like a secret weapon, showing faith and perseverance when she's competed in Olympics and in other games.
Olympic gold medalist Allyson Felix is one of the fastest runners in the world. Felix who is the daughter of an ordained minister uses sports as a platform to promote the Gospel. She has described her running experience as a gift from God.
"For me, my faith is the reason, I run. I definitely feel I have this amazing gift that God has blessed me with, and it's all about using it to the best of my ability," Felix said.
Bubba Watson is also another great example. The pro-golfer and devout Christian has credited Jesus and the Bible for His victories in golf.
These are just a few examples of Olympic athletes who are not afraid to share such an integral part of their lives with the world. They're not just performing their best for themselves; they're performing their athletic calling as a spiritual vocation.
But does faith actually give them a competitive edge? Chad Bonham, author of the book "Glory of the Games: Biblical Insights from the World's Greatest Athletes," told the Religious News Service that it very well may.
"If there is an advantage these guys would tell you it gives them, it is in dealing with the ups and downs of training and injury, of winning and losing," he said. "Winning can be a drug, an upper, and losing is a downer, so it helps give them an edge in dealing with the glory they receive from winning and the awful feeling of losing. There is a certain balance in those people in that they understand what they are doing and what is happening to them."
We can see the same in our own lives – the desire to make the most of our lives and that faith brings meaning to the very lives we lead.
As believers, we also know that there is incredible power in prayer which is deeply connected with our faith lives. When we pray, we focus less on our pain. A university study found that people who suffered migraines who meditated 20 minutes day with a spiritual affirmation such as "God is good" had fewer headaches and better pain tolerance, compared to those who used a non-spiritual statement. When commonly practiced, these calming effects are not temporary, but long term. Prayer not only helps you focus less on your pain, it helps you feel pain less. Olympic athletes who pray more, they focus less on their pain and more on the goal.
Prayer also relaxes us. When we enter silent prayer with Our Heavenly Father before sleep, it relaxes our body. Dr. Herbert Benson, a cardiovascular specialist at Harvard Medical School and the founder of the Mind/Body Medical Institute at Massachusetts General Hospital in Boston found that during periods of prayer and meditation, we undergo "the relaxation response". During this period, our body relaxes –our blood pressure and heart rate goes down, and our breathing becomes more calm and regular.
While under a tremendous amount of pressure, athletes must center themselves and remain in a strong state of calm which their faith in prayer provides them.
There are a number of Olympic athletes that will be headed to the Olympic stage that we admire not only for their athleticism, but also for their faith in Jesus Christ. For these athletes, being a Christian isn't just a title, it's also a lifestyle. We admire these athletes not only for their amazing God-given talents but also for their faith and values. They acknowledge that they wouldn't be where they are today without the help of God and that has given them the strength to power through each competitive challenge. We can expect these Christian athletes to illuminate in the games.