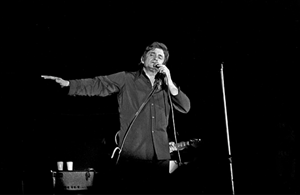 Heinrich Klaffs/Wikimedia Commons
Some astrophysicists believe the universe started with an unplanned explosion, a big bang. Stars and planets were created from rock, minerals, and superheated gases, and different elements smashed into each other. Some music historians believe the rock 'n roll universe came together similarly.
Where it All Started
Rock and roll, also known as rock 'n' roll or rock & roll, is a type of music that began in the United States in the mid-1950s. In the 1960s, the music evolved into a more encompassing style known as rock music, which was also known as rock and roll.
It started with gospel music which gave birth to blues, western, and country. Swing and jazz came after, birthing R&B around the 1940s. People called it "rock and roll spiritual singing." Like a solar system forming around a star, "rock 'n roll" slowly became a heavenly body unto itself. Some would describe rock and roll as a mix of country music and R&B, but if that were the case, it would have happened before it reached the national stage.
The seeds of rock and roll were planted years ago; they just happened to bloom in the mid-1950s when a mix of Black culture and white spending power collided. Black singing groups like The Dominoes and the Spaniels started mixing gospel-style harmonies and call and response singing with a secular subject matter and aggressive R&B rhythms.
This new sound caught the ears of D.J.s around the country like Alan Freed of Cleveland, Ohio, William "Hoss" Allen in Nashville, and Dewey Phillips of Memphis. They created rock and roll radio by playing rhythm and blues and blues songs that introduced white suburban teens to a thrilling, exotic culture and something they'd never heard before. However, that would all change in 1954 with the introduction of Elvis Presley, a handsome white singer that sounded Black.
The Influence of Elvis Presley
Elvis Aaron Presley was born in Tupelo, Mississippi, in 1935. His family was dirt poor, but he didn't let that stop him from achieving his dreams. Growing up in the Pentecostal church, Presley was drawn to music as a child. He would eventually move to Memphis as a teenager, where he caught the ears of Sam Phillips, a producer at a local blues label, Sun Records. After Philips heard Presley's audition tape, he called him to come into the studio.
After several weeks of recording, a band formed consisting of Presley, Scotty Moore on guitar, and Bill Black on bass. Their selections included the material that would make Presley famous: blues and country songs, ballads, and gospel hymns. Presley was familiar with this music from the radio, his parents' Pentecostal church, and the group sings he attended at the Rev. H.W. Brewster's Black Memphis church. He also recognized some of it from the Beale Street blues clubs he frequented as a teen.
After Presley burst onto the scene, the music of Black musicians like Fats Domino, Chuck Berry, Little Richard, and Bo Diddley fit in with the rockabilly tunes of white performers like Eddie Cochran, Buddy Holly, and Jerry Lee Lewis. This change is partly because they all focused on the same audience: teenagers. For young white America, this new sound was the soundtrack for rebellion.
Presley would eventually shoot into stardom, becoming arguably one of the most famous entertainers on Earth. He would continue his music career, but he also starred in films like "Blue Hawaii." Sadly, Presley's career would end just as quickly as it started. Towards the end of his career and life, Presley picked up a lethal lifestyle, abusing drugs and eating greasy foods. He would die from a heart attack brought on by drug abuse at 42-years-old.
The Influence of Johnny Cash
Johnny "J.R." Cash was born in Kingsland, Arkansas, in 1932. Cash got his musical influence from church, the cotton fields, and radio. According to his sister, Joanne Cash Yates, the family had a battery-powered radio at home, and the whole family would listen to music and other programs like "Gang Busters" and "The Squeaking Door." After his brother died in a freak woodshop accident, Cash kept to himself more.
He began writing poetry and bought a guitar. With the help of his mother and a childhood friend, he started playing songs, mostly country. Later, he began to incorporate gospel music into his sound. He was significantly influenced by Sister Rosetta Tharpe, who mixed spiritual lyrics with her electric guitar, contributing to the beginnings of rock and roll. After serving in the military, Cash settled in Memphis, Tennessee, in hopes of starting a career in music.
Cash would eventually start performing with the Tennessee Two, which became the Tennessee Three, and appeared at county fairs and other local events. These performances would lead to an audition with Sam Phillips at Sun Records, who would sign Cash in 1955. His songs like "I Walk the Line," "Folsom Prison Blues," and "Cry, Cry, Cry" brought him considerable attention; by 1957, Cash was the top recording artist in the country and western field. His music featured a stripped-down sound focused on social and political issues and the working poor. Cash had a rebellious persona and wore black frequently, so he became known as the "Man in Black."
Sadly, Cash's career would start to decline in the early 1960s as he battled drug addiction. At the urge of June Carter, he sought treatment, and his career started picking back up in the late 60s.
The event that turned Cash's career around was the release of Johnny Cash at Folsom Prison in 1968, where he performed for 2,000 inmates at California's Folsom Prison. Record company executives saw this performance as a risky move. Still, it turned out to be the best opportunity for Cash to re-establish himself as one of country music's most relevant artists.
Cash faced another slope in his career during the 1980s, but that changed in 1994 when he signed with Rick Rubin's American Recordings, known for its rap and metal acts. Cash died in 2003, but the music world already cemented him as a legend.
Presley and Cash, two of the biggest rock and roll acts, started as country church boys who believed in Jesus. The devil got to their souls and held them for years. However, they eventually found their way back to God and lived in His glory.