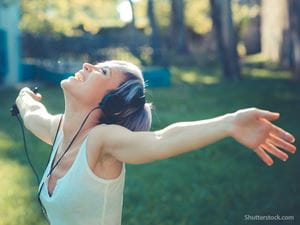 Sometimes, we need a little extra hope. Our lives hit a period of winter that seems as if it will never end, and by the end of the year, we're exhausted and stressed. At times, it seems these periods might never end.
But there's a certain magic in the renewal of the new year. Just as the cycle of seasons begins anew, turning barren winter into vibrant spring, we have a chance to be renewed as the year turns over, taking control of our lives and making the new year a fantastic one.
One great way to celebrate and prepare for that renewal is by immersing yourself in hopeful songs that surround you with a feeling of joy through positive lyrics and sound. There are few things that can make a person happier!
To help you plant these seeds of positivity, let's take a look at a few hopeful songs for the new year.
"What a Wonderful World"
Louis Armstrong's soulful voice has the unique ability to make even the hardest heart soar.
His song, "What a Wonderful World," is one of the most gloriously hopeful songs you can find, embracing the idea of seeing the true beauty in your surroundings.
As Armstrong croons about seeing blue skies and white clouds, the blessed day and the sacred night, you'll soon find yourself suddenly able to see his "wonderful world," so full of "rainbows so pretty in the sky".
Perhaps, most poignantly, and most needed for a hopeful new year, is the line, "I see friends shaking hands saying how do you do/But they're really saying I love you".
Whatever your musical tastes, you can count on "What a Wonderful World," to cheer you up and give you hope for the new year.
"Let It Go"
Disney's smash hit "Frozen," gave us more than a great film—it gave us one of the most hope-filled songs in recent memory.
Elsa, the fictional singer of "Let it Go," and a main character of the film, is a scared girl struggling to control and come to terms with her powers—abilities which ostracize her from her family and people. For years, she and her family keep her ability to control ice and cold under wraps, for fear that the surrounding villagers would fear and loathe her.
When those powers finally come out, that fate comes to pass, and she leaves her kingdom.
"The essence of this song lies in the joy of finally being yourself after a lifetime of living beneath a mask."
"Let it Go," is a cathartic release of Elsa's secret life—it narrates of joy at being free for the first time, at not hiding who she is any longer now that she's away from those who persecuted her.
The essence of this song lies in the joy of finally being yourself after a lifetime of living beneath a mask.
This is one song to take to heart for a hopeful new year—the lyrics are a testament to a soul unbound, and form the mantra for a joyous new year, freed from the need to be "perfect" in the eyes of others.
"Let it go, let it go/And I'll rise like the break of dawn/Let it go, let it go/That perfect girl is gone."
"It's My Life"
Bon Jovi's "It's My Life" runs in the same vein as "Let it Go"—it's a rousing chorus that sings of the freedom of the human heart.
Bon Jovi sings of a different side of life, singing, "Tomorrow's getting harder make no mistake/Luck ain't even lucky/Got to make your own breaks".
But he goes on with a chain-breaking chorus, singing, "I did it my way/I just want to live while I'm alive/Cause it's my life/Better stand tall when they're calling you out/Don't bend, don't break, baby don't back down."
This song is an acknowledgement that the new year may hold hardships, but that we all have the power to stand tall, to not back down, to live life our way.
"It's My Life" pushes us to live while we're alive in what is one of the most hopeful songs for the new year we could ask for.
So listen, and get motivated to make this year your own!
"Beautiful"
Christina Aguilera's "Beautiful," tells a message of a different sort, but no less hopeful.
Hers is a song of acknowledgement not of the outside world, but of the inner—of the beauty we all possess as valuable human beings.
"You're beautiful/No matter what they say/Words can't bring you down/Oh no/You're beautiful/In every single way."
If you're feeling unimportant or broken or somehow lesser than those around you—if this has been the theme of your year—enter the new year knowing this: you are beautiful. You are worthy.
So listen to "Beautiful," and take hold to hope. This year will be better.
"Heal the World"
Michael Jackson's "Heal the World," is not only a beacon of hope, but a call to action.
"Heal the world/Make it a better place/For you and for me/And the entire human race/Thereare people dying/If you care enough for the living/Make it a better place/For you and for me."
This is a hopeful song for the new year that's all about redeeming the world, about how little kindnesses can make it a better place for us all.
The more people that listen and take heed of this song's message, the better the year will be, so be sure to play it at your New Year's gatherings in order to foster a spirit of kindness.
Remix of the "Just Do It" Motivational Speech by Shia LaBeouf
Finally, an offbeat addition to this list, but a great one, Envane's remix of actor Shia LaBeouf's infamous "Just Do It" video is pure motivational gold.
In this song, LaBeouf's booming voice admonishes listeners, saying, "Some people dream of success/Don't let your dreams be dreams/You should get to the point/Where anyone else would quit/And you're not gonna stop there!/Just do it!
The combination of catchy tunes and LaBeouf's odd, yet motivating, monologue makes this an eminently listenable and obstinately hopeful song for the new year, perfect for when you're trying to psych yourself up to get back to the gym, be a better worker, or finish up that creative project you just couldn't finish last year.
Just do it. Nothing is impossible.
Staying Hopeful
If you sow the seeds of hope now, you'll reap a bountiful harvest come spring. Meditating on these songs, with their messages of beauty, freedom, kindness, and motivation, will help you to mentally sow those seeds.
So if you've been looking for some hopeful songs for the new year, look no further. These will carry you through.