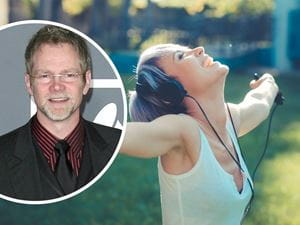 Shutterstock.com | Inset: s_bukley / Shutterstock.com
In the late 1980s, Steven Curtis Chapman instituted himself as a contemporary Christian music leader, and through his music, he continues to fill listeners' ears with God's truth. His career has included 59 Dove Awards, five Grammys, and other accolades.
For many believers, Chapman's songs became the soundtrack of their growing faith in God. His music can take you from the depths of pain to the height of happiness. Like David's walk of lows and highs throughout Psalms, Chapman resorts to God's love and sovereignty. Here are some Steve Curtis Chapman songs that will lift your spirit.
"Dive" – 1999
This powerful anthem is a favorite for many Steve Curtis Chapman believers. Its upbeat tunes will inspire you to live a life that honors God. It is a favorite for Chapman fans and a song that will remind you of the beginning of your walk with God. This song also won the Dove Award for Pop/Contemporary Recorded Song of the Year in 2000.
"With Hope" – 1999
This song is an excellent reminder of our hope in God when in a season of loss or grieving. We might not know why certain things happen in life, but this song is a reminder that God has all the answers, and His plan surpasses anything we can imagine.
"Remembering You" – 2005
This song was the initial single from the compilation album "Music Inspired by The Chronicles of Narnia: The Lion, the Witch and the Wardrobe," released in 2005. This album included numerous songs contemporary Christian music artists recorded to promote the film to Christian audiences. "Remembering You" is a pop song with folk and Celtic influences and a significant string section. It was written to show the film's characters' viewpoint at the end of the film. Like many other songs on the album, the tune immerses you into C.S. Lewis' Narnia.
"Cinderella" – 2007
In a YouTube video, Chapman says he wrote this song one night after bathing and putting his two younger daughters to bed. He recalled how the girls tried to stall the process by putting on their Cinderella dresses and asking him to read a story. Meanwhile, Chapman is trying to hurry the process so he can go to work in the studio. When he left their bedroom, Chapman says he heard God say, Emily Chapman, his eldest daughter's name. He remembered rushing through some of her childhood moments and didn't want to make the same mistakes with his youngest girls. He wrote Cinderella as a reminder to cherish his family moments, no matter how brief.
"Beauty Will Rise" – 2009
Written after the death of his daughter, Maria Sue, Chapman has no issue with the fact that the song and others on the album are about his daughter. "Beauty Will Rise" puts Chapman in sackcloth and ashes, going through the depths of the valley of the shadow of death after 20 years on the peaks of contemporary Christian music. Simultaneously, the song's title and first line mention the hope of seeing her again in heaven. No parent wants to experience the death of a child, but Chapman has wrestled with the everyman's faith struggles. "Beauty Will Rise" is a fantastic reminder that God is always working. Beauty will rise in the pain, and God's glory will reign.
"Heaven is The Face" – 2009
Chapman says this song came from wrestling between Revelations' description of heaven and his hopes to see Maria Sue in heaven when the time comes. The lyrics vividly detail the tension between the glory to come in eternity and what our hearts long for.
"Long Way Home" – 2011
In an interview with Deborah Evans Price, Chapman describes this song as God letting him smile with music again. He added that music became deep and heavy for him after Maria Sue's death. However, he discovered the ukulele, which was God's way of allowing Chapman to smile and enjoy music again. This upbeat tune will make you want to dance and smile, reminding you of what to look forward to in heaven.
"Don't Lose Hope" – 2022
This Chapman single is an anthem of encouragement. On his website, Chapman said he wouldn't be where he is without the people God put in his life to encourage and cheer him on through the dark valleys, reminding him that he isn't alone. He added that now more than ever, we need supporters on our journeys, describing this song as an anthem of encouragement and hope to sing to each other, helping remind each other that God is with us.
Steven Curtis Chapman's music has been inspiring the masses for decades. Through tragedy and triumph, Chapman continues to press on, sharing his messages of encouragement and hope with his fans. The next time you feel down and need a pick me up, turn on one of these Steve Curtis Chapman songs and you'll undoubtedly start feeling better.