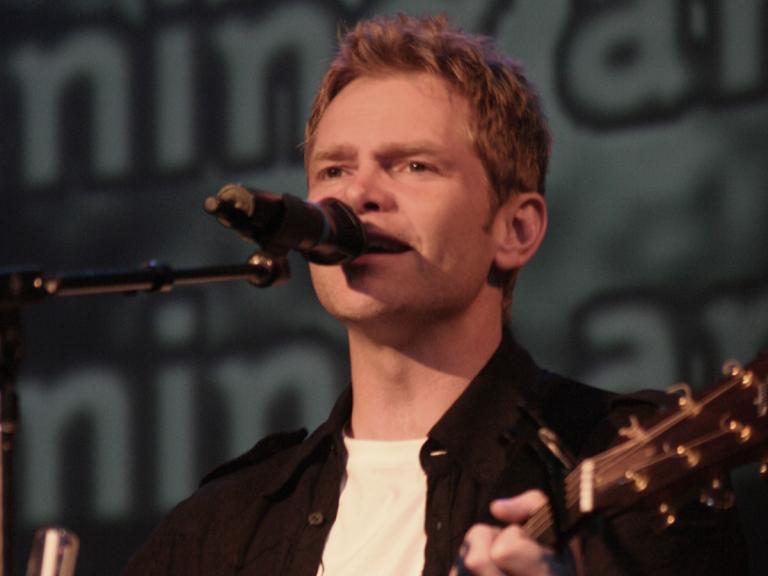 Steven Curtis Chapman has made history as his single, "Don't Lose Heart," hit the number 1 spot on the charts last week. "Don't Lose Heart" joins the ranks of Chapman's other number 1 singles, such as "His Eyes" and "The Great Adventure." Chapman has sold over 11 million albums, won 5 Grammys and 59 Dove Awards during his 30-year career. This makes Chapman the first Christian artist to have 50 number 1 singles.
Chapman thanked his team for the win, saying, "I'm completely blown away by the support for this song and for my music, even after so many years. To ever have a number-one song on the radio as an artist/songwriter is a dream come true, and to have fifty is simply unbelievable! This only happens because of an amazing team and a community of friends around me who have believed in the unbelievable. I'm grateful and humbled beyond words." The song "Don't Lose Heart" focuses on Chapman's feelings of grief that he has experienced throughout his life., including the tragic loss of his 5-year-old daughter Maria Sue in 2008. Speaking on the song last July, Chapman said he wanted to use his grief to help others. "I've heard countless stories of others who've walked through their own deep, dark valleys, and I feel like there are some things I can say from the perspective I have now. I'm deeply grateful for the opportunity to encourage others not to lose heart and to remind them that we're gonna make it home…together!" He re-released the song last month featuring Mitchell Tenpenny. The song resonated with Tenpenny, whose mother is currently battling breast cancer.
Holly Zabka, president of Provident Entertainment/ Sony Music, congratulated Chapman on his achievement, saying, "We are so honored and excited to be a part of Steven's 50th No. 1 song with 'Don't Lose Heart.' This unprecedented and monumental achievement for Steven is a testament to the incredible artist and songwriter he is and can only be outshined by the countless lives that have been changed by his music." Still, the album which features "Don't Lose Heart," is Chapman's first album in nearly 10 years. Speaking with Billboard before the album's release, Chapman stated that he was inspired to return to music thanks to Bruce Springsteen. "Here's a guy who is in his 70s, and I heard him say, 'I've had this incredible blessing of having years and years of conversations with people. I just love having those conversations, and that's what these songs are. They are my conversations with people, and I want to keep doing that," Chapman said. Despite his desire, changes in the music industry did make him hesitate. "It was a long process even of deciding, 'Do I make another record?' because making records now is so different, and the business is so different," he said. At the time of the interview, Chapman stated he was realistic that people might not be interested in hearing from him anymore. "I've been told, 'Radio loves you, but you're fighting a battle against your own history — because there are recurrent songs and quite a few No. 1s," he'd said. With the success of "Don't Lose Heart," it looks like there's still room for one more.