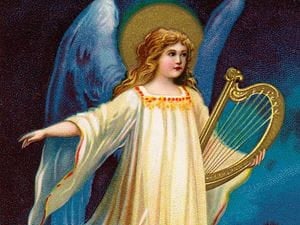 shutterstock.com
People love angels. They have captivated our imaginations since the birth of Christ. From the earliest centuries of the Church, angels have appeared in various forms of art, including music. The fascination with celestial creatures continues to this day. One of the biggest reasons we are so fascinated with angels is because we simply desire to know and we also like to believe that someone is always looking out for us who is more capable than we are. God has created guardian angels to take on this role.
Music often seems to be the way angels connect with us, and most musical artists from various genres including pop, rock and alternative have sung or written about them at some point. Here are five songs about angels that will brighten your day.
"Calling All Angels" by Train
"When there is no place safe and no safe place to put my head. When you feel the world shake from the words that are said. I need a sign to let me know you're here 'cause my TV set just keeps it all from being clear. I want a reason for the way things have to be. I need a hand to help build up some kind of hope inside of me. And I'm calling all angels. I'm calling all angels…"
"Calling All Angels" was nominated for two Grammy Awards and has become prominent in popular culture, having appeared in many TV programs. The song is also played at Angel Stadium before every Los Angeles Angels of Anaheim game while the video screen shows a montage of the team's history. The lyrics of this song have a lot of social commentary, pointing out that the world has become a mess and implying that perhaps humans need celestial help in making things right.
"Angels Among Us" by Alabama
"Oh, I believe there are angels among us, sent down to us from somewhere up above. They come to you and me in our darkest hours to show us how to live, to teach us how to give, to guide us how to love…"
There are always going to be angels among us in some way, whether you can or can't see them. They might be a real angel, they might be a person you encounter, but somehow and in some way, you will know when you find them. Alabama lead singer Randy Owen has said that the band received hundreds of letters from all over the world saying that the song was a blessing. Owen performed the song at the funeral of his close friend Dale Earnhardt, Sr.
"Angel" by Sarah McLachlan
"In the arms of the angel, fly away from here. From the dark cold hotel room and the endlessness that you fear, you are pulled from the wreckage of your silent reverie. You're in the arms of the angel may you find some comfort here..."
Everyone knows Sarah McLachlan's iconic song "Angel," if not from her extensive catalog of classic hits, then from those really touching SPCA commercials where the song is used to stop animal cruelty. In a Q&A session, McLachlan revealed that the song was inspired by Jonathan Melvoin who was the keyboardist of the Smashing Pumpkins who died of a heroine overdoes in 1996. McLachlan said, "the story shook me because though I have never done hard drugs like that, I felt a flood of empathy for him for and that feeling of being lost and lonely and desperately for some kind of release."
While you may not automatically think of this song as a "brighten your day anthem," the lyrics will touch you in a special way, providing a sense of comfort and ease.
"Angel of Music" by Andrew Lloyd Webber
"Angel of music, guide and guardian. Grant to me your glory. Angel of music, hide no longer. Secret and strange Angel…"
"Angel of Music" is a song composed by Andrew Lloyd Weber is from the operetta "The Phantom of the Opera." In the story, the title character Christine confesses to her best friend that she knows her mysterious teacher only as an invisible "Angel of Music." When Christine was young before her father died, he said he would send her the Angel of Music. The phantom is trying to lure her because he knows her father would send her the angel of music. He uses Christine's weakness to his advantage so that he can later win her over. The song is performed in Act 1 of the play and has become of one of the show's most popular songs.
"Send Me An Angel" by Scorpions
"The wise man said just walk this way to this dawn of the light. The wind will blow into your face as the years pass you by. Hear this voice from deep inside. It's the call of your heart. Close your eyes and you will find the passage out of the dark. Here I am. Will you send me angel? Here I am, in the land of the morning star...The wise man said just raise your hand and reach out for the spell. Find the door to the promised land…"
In some Christian theology, the Morning Star refers to Lucifer. Some interpret that Morning Star was Lucifer before the fall. Jesus refers to himself as the bright Morning Star in Revelation 22:16, "I Jesus, have sent my angel to give you this testimony for the churches. I am the Root and Offspring of David, and the bright morning star." Some believe that the song is telling us that Jesus, the dawn of light, is leading us through troubles with the Holy Spirit. The spell referenced in the song would be love and faith.
Many songs have been written about angels. Our culture is fascinated by angels. We love them because they do what we cannot. We recognize our insufficiency and our need for the help of our angelic intercessors. Thankfully, God has provided for us by giving us angels to be with us to light, to guard, to rule and to guide. These songs remind us of the power and influence of angels, not only in our culture, but also in our lives.