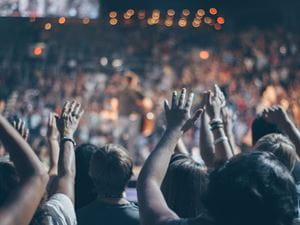 Pexels.com
According to a recent study, almost every worship song that reached the top 25 music charts from 2010 to 2020 was popularized or co-written by one of five megachurches. Worship Leader Research released a study called "(Almost) 100 Percent of the Top 25 Worship Songs are associated with just a handful of Megachurches," which analyzed where popular worship songs came from.
WLR research shows that from 2010 to 2020, only 38 worship songs appeared on the Christian Copyright Licensing International and PraiseCharts top 25 lists. Researchers said the CCLI lists are seen as the Billboard charts of church music, while the PraiseCharts is where churches buy arrangements and chord charts.
What are the megachurches behind these popular songs?
The 38 songs listed in the study are as follows: "Forever (We Sing Hallelujah)," "Goodness of God," "Great are You Lord," "Holy Spirit," "King of My Heart," "Living Hope," "No Longer Slaves," "Raise a Hallelujah," "Reckless Love," "The Lion and the Lamb," "This is Amazing Grace," "Tremble," "Way Maker," "Do It Again," "Graves into Gardens," "O Come to the Altar," "See a Victory," "The Blessing," "Cornerstone," "Forever Reign," "God Is Able," "King of Kings," "O Praise the Name (Anastasis)," "Oceans," "This I Believe (The Creed)," "What a Beautiful Name," "Who You Say I Am," "10,000 Reasons (Bless the Lord)," "At the Cross (Love Ran Red)," "Build My Life," "Glorious Day," "Good Good Father," "Lord I Need You," "One Thing Remains (Your Love Never Fails)," "Our God," "Whom Shall I Fear/God of Angel Armies," "Death Was Arrested," and "Great Things."
Of the 38 songs, 37 were either popularized or written by one of five megachurches: Hillsong, Bethel Church, Passion Church, Elevation Church, and North Point Community Church. Of the 37 songs tied to megachurches, nine are associated with Passion, 13 are associated with Bethel, five with Elevation, nine with Hillsong, and one from North Point. The only song not popularized or written by the five megachurches was "Great Things" by Phil Wickham. Still, the study highlighted that Bethel Music's successful collaborations with Wickham came before the song's release.
Shannon Baker, a postdoctoral fellow in music and digital humanities with Baylor University who helped with the findings, told The Christian Post that the study hoped to answer who the leading players are in contemporary Christian music. She said in an interview that the other part of the study was how worship leaders engage the landscape and environment. She asked how they interact with prominent artists and the songs they're releasing. Also, how do worship leaders engage with contemporary worship music?
Marc Jolicoeur, the worship and creative arts pastor at Moncton Wesleyan Church in Canada and another WLR study author, told The Christian Post that the study authors were surprised at how unsurprising the results were. He said you go into these studies with a thesis and a hypothesis you want to test. The goal is not just to try to reinforce the hypothesis but to test it to determine whether the data matches the theory. Joliocoeur continued, saying most people feel a small number of significant players are in the field. However, to see it so data-driven and laid out in spreadsheets is surprising.
Baker said the part that fascinated her the most about the results was the influence of a song being released as a single. She added that by 2017, every song after that was in the top 25 on the list was released as singles. For Baker, she thinks it's just fascinating to see how the industry mechanics influenced how the most used songs found their way into the church. She added that the reasons why the most popular songs in worship are written by a handful of songwriters from some megachurches, labeling Passion, Hillsong, Elevation, and Bethel as the "big four." She said megachurches are more established than artists who aren't affiliated with them.
The secret behind these songs' success.
When considering megachurches like Passion and Hillsong, Baker said they've existed longer. Still, she thinks that the artists' prominence, especially Hillsong and Passion, longevity is because people have grown to like those artists, developing the trust in the songs produced. She thinks that a lot of it is that the "big four" have developed a trust with their listener base. This perpetuates when they release the new single or album, and people will gravitate toward that because they've liked their song in the past, so they'll like the new songs.
According to Baker, while Elevation and Bethel came later onto the scene, they immediately developed that trust and quickly emerged into these songs that made the list. The idea that artists like Chris Tomlin have a trusted fan base has played a part in the trend, which pointed to Tomlin's ties to Passion during the 2010s. Though Tomlin eventually left, his connection added another level of trust to Passion as a whole while he was there because he was trusted as a solo artist and through working with Passion.
Jolicoeur was concerned with the trend, telling The Christian Post that this could be adverse news for aspiring Christian artists and musicians, as they lack equal opportunity in the Christian music industry, referring to it as a "tough game." He said it may not be the way to go if you want a living. However, if you want to just write good worship songs with ones that will help your community from your heart, it turns out there will never be too many. He added that there will always be room to sing a new song, as described in Psalms.