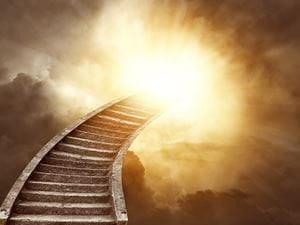 Shutterstock.com
Google it – songs about heaven. Shocking, huh? There seems to be thousands of songs about a realm that we all hope to be a part of one day. With an exception to a handful of people, no one has actually stepped foot or floated on a cloud in heaven. Yet, just about every A-list artist has written or sung a song that talks about the illustrious place. Think about it – Bob Dylan's 'Knockin on Heaven's door', Coldplay's 'Hurts like Heaven, and of course we can't forget Belinda Carlisle's 1987 hit 'Heaven is a Place on Earth'.
Do me a favor, create a new playlist and name it heaven. I know, you're thinking well that's not a unique title. However since heaven is the fascination among these artists it only seems fitting, right?
This one has been covered by a number of artists – Norah Jones, The Smashing Pumpkins, and Harry Connick Jr. Sinatra recorded the song twice - in 1950 for Columbia Records, and in 1960 for Capitol Records. The song was written in 1924 by Walter Donaldson as he waited his turn at a billiard table.
The song was the third single released from R.E.M.'s seventh studio album Out of Time in 1991. The song was the first single released by the band to have had its lyrics both co-written and sung by bassist Mike Mills.
Heaven Sent is an R&B song by singer-songwriter Keyshia Cole. It is the fourth and final single from Keyshia Cole's second album Just Like You. This ballad was written by Alex Francis, Jason Farmer and Keyshia Cole. 'Heaven Sent' was the third number one single for Cole on the Hot R&B/Hip-Hop Songs chart. The song's is inspired by the "Footprints" that describes an experience in which a person is walking on a beach with God. Cole earned Cole two Grammy nominations for Best Female R&B Vocal Performance and Best R&B Song. Another fun fact: Singer and songwriter Leona Lewis also has a song entitled "Footprints in the Sand" that is also inspired by the poem.
'Sky Fits Heaven' is a song recorded by Madonna for her seventh studio album, Ray of Light – released in 1998. It was written and produced by Madonna and Patrick Leonard. The song also contained additional production from William Orbit, and lyrical interpretations from British poet Max Blagg's 1992 poem, "What Fits?". While composing her album, Madonna and Blagg agreed upon a deal which allowed the singer to include excerpts of the poem within her song 'Sky Fits Heaven'. In exchange, Blagg would receive no credit. The lines in particular featured are: "Sky fits heaven so ride it / Child fits mother so hold your baby tight" would be used, with the exception of the first line which would be changed to "Sky fits heaven so fly it."
'Cry to Heaven' was written by Elton John and Bernie Taupin. The song was featured on John's "Ice to Fire" album.
This song is written by Eric Clapton and Will Jennings. The song was inspired by the pain and loss Clapton felt following the death of his 4-year-old son Conor. In an interview with Sue Lawley in 1992 Clapton said, "There is a song that I've written for a movie, but in actual fact it was in the back of my head but it didn't really have a reason for being until I was scoring this movie which I did a little while ago and then it sort of had a reason to be. And it is a little ambiguous because it could be taken to be about Conor but it also is meant to be part of the film." The song is featured in the movie Rush.
'Heaven Can Wait' was written by Michael Jackson, Teddy Riley, Andrea Heard, Nate Smith, Teron Beal, Eritza Laues and Kenny Quiller. Originally the song was written for Teddy Riley for Blackstreet's 1999 album "Finally". But when Jackson began writing the song with him, the singer asked Riley to give him the song – and of course he did and the song was added to Jackson's "Invincible" album.
This song talks about love and loss. The song brings light to losing loved ones by saying that heaven needs our lost ones more than we need them here on earth. The song provides a silver lining to the pain and whirlwind of emotions that death can bring on.
'Shine' by Collective Soul
'Shine' was the debut single for Collective Soul. The song has remained, over the years, as one of the band's most well-known songs. Guitarist Dean Roland has called the song's chorus "basically a prayer" and noted that the uplifting single was released during an odd time amidst heavy grunge. The mention of heaven, being in their first single, caused media critics to label the band as purely Christian; however, over the years the band advised this was not at all the case.
In 2013, when this song was released, the internet reacted positively. The video on YouTube racked in over 1,500,000 views. The song expresses sorrow at the loss of a loved one, asking whether their fears and pain have faded away. Lizzy wrote the song after a friend died, but later reports have suggested that the song was inspired by the deaths of others the duo knew.
These are just a few of the songs about heaven available. As a Christian, it's refreshing to know that so many people believe in the beauty of heaven. At some point in everyone's life, they have lost someone that is near and dear to their heart. Having inspirational songs, like these, can make all of the difference. Sometimes a song has the power of healing.