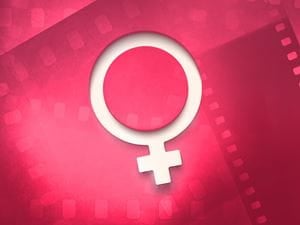 Shutterstock.com
What is it? Is it a bird, is it a plane or is Hollywood serving more female audiences? With films like "Wonder Woman" and "Cat Woman," we believe the feminism is alive when action films hit the screen.
Don't believe the hype. Yes, the fictitious characters are bad to the bone. But it is not enough to have women embody men as superheroes. Kicks and punches are not what women need in a male-dominated Hollywood. Yes, in 2017, we are faced with gender bias and people who hate feminism.
But what is feminism, anyway? It is the advocacy of women's rights on the basis of the equality of the sexes. "The theory of the political, economic and
social equality of the sexes
. The belief that men and women should have equal rights and opportunities," Forbes blogger Kathy Caprino explained.
How does this impact Hollywood?
Without women having strong roles in films, we encourage even more bias when females are underrepresented. Why is this issue so important for us and for the future of for the next generation?
This will make it harder for them to follow their dreams because they accept that it will be too difficult to achieve or they might be fearful of discrimination. People still do not support the idea that there should be equal rights and equal opportunities for men and women. There are people who believe, even if it's subconscious, that women are not equal and it shows. Also, the lack of feminism shows the ever increasing pay gap between actress and actors. It just leads to a horde of problems.

Actresses are fighting to receive equal pay, strong female roles are minute and only three percent of female directors work on big budget films. Susanna White is a BAFTA a
ward-winning director, she wrote that there is a domino effect when woman directors are not getting the work. "Fewer films directed by women tends to mean fewer films with strong female leads. Women's roles as those who bring life into the world might have an impact inasmuch as our films often deal more thoughtfully with violence and its consequences."
Indeed she is correct in her observation. Violence against women is a staple of films with movies like "Honor Diaries." When women are involved in violence on screen it usually is of a sexual nature. The distribution of violence hurts women as they are told that they are sex objects in movies "They are constantly endangered, that they must rely on men for protection and that they aren't able to be heroes on their own account," The Guardian reported.
Stars are speaking up about the role of feminism. Emma Watson addressed sexism in Hollywood. Watson admitted she experienced sexism 17 times with a male director and only twice with female directors. She demanded to be treated equally. "I have always insisted on being treated equally and have generally won that equality. Most of the problems I have encountered have been in the media, where I have been treated so incredibly differently from my male co-stars."
She is not alone. Others have taken up the mantle.
"I'm over trying to find the adorable way to state my opinion," Oscar winner Jennifer Lawrence said. "The Hunger Games" star found out that she earned considerably less than her male counterparts after the Sony hack. She blamed herself for not speaking up earlier on. "I got mad at myself. I failed as a negotiator because I gave up early. I didn't want to keep fighting over millions of dollars that, frankly, due to two franchises, I don't need."
The Center for the Study of Women in Television and Film at San Diego State University studied the roles of women in film and over the last decade, and the situation is grim. There was only 12 percent of women playing a lead character in the top-grossing films. "In 2016, women represented 17 percent of all directors, writers, producers, executive producers, editors and cinematographers working on the top 250 domestic grossing films," the study found. This was a decline by two points from 2015. There is a growing disconnect of the current status of women in film.
Simply, we are not where we need to be.
The study's author Dr. Martha Lauzen said that that change is possible if we can improve the behind-the-scene dynamic. "People tend to create what they know and having lived their lives as females, women tend to be drawn to female characters," said Lauzen. "We need to have greater diversity behind the scenes if this is going to change."
Women worked hard to gain equal rights to vote, wages, which is still not equal compared to men doing the same job. Many fought to remove the stigmas of women in history books, worked to remove the sexist language and encouraged women to go into professional fields and yes, the right to vote. Look, this is not about burning bras. Beefing up the roles of women in front the camera and as well as those working in production could create a bigger impact the industry.
This is crucial because films and entertainment have a great influence on society. This can be positive or it can negative, it reflects our society back at us. Just like there need to be more lead roles for women, more women in executive positions and women business owners on Main Street. Women are seen as the weaker sex, although we've made progress, there are more strides to take within society and our fictional characters. So, more female action stars do not give us hope, as this is not a correct of a depiction of women in Hollywood.