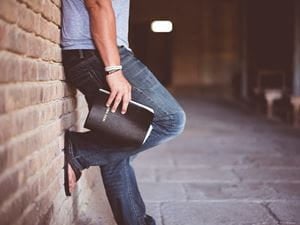 Unsplash.com
We often think that the Bible is absent from popular culture. Many of us have been taught that faith in pop culture is taboo, but you'd be surprised to find out how many times Bible verses are referenced in our by our favorite brands and in our favorite songs, shows and films. This popular trend brings to question, is it inappropriate for secular entertainment to incorporate the Bible into pop culture, or is this an opportunity to discuss the Bible? There must be a reason that pop culture is so immersed with biblical content.
Did you notice Bible verses being used in some of the most popular films? Often, these verses are used to create powerful moments. They are also used to convey compelling messages. These films range in category. You can find scripture in everything from thrilling action films to classic children's films.
One of those films is The Shawshank Redemption. In the film, Andy starts up a conversation with the corrupt warden after his cell is searched. In the movie, Andy's favorite Bible passage was Mark 13:35-37, which says, "Therefore keep watch because you do not know when the owner of the house will come back—whether in the evening, or at midnight, or when the rooster crows, or at dawn. If he comes suddenly, do not let him find you sleeping. What I say to you, I say to everyone: 'Watch!'" The warden follows up with his favorite verse, John 8:12, which says, "When Jesus spoke again to the people, He said, 'I am the light of the world. Whoever follows Me will never walk in darkness, but will have the light of life.'"
Another popular film is Saving Private Ryan. Recognized by many as the greatest war film of all time, this film references scripture a lot. One of the most profound moments is when Jackson is sniping in a bell tower in the final battle. As Jackson begins to shoot, he references Psalm 144:1-2, which says, "Praise be to the LORD my Rock, who trains my hands for war, my fingers for battle. He is my loving God and my fortress, my stronghold and my deliverer, my shield, in whom I take refuge, who subdues peoples under me."
We even find Bible references in Charlie Brown Christmas, one of the most beloved Christmas films. In one of the scenes, Charlie Brown struggles to understand the true meaning of Christmas. He goes around asking the question, 'Isn't there anyone who could tell me what Christmas is all about?" He struggles until he sees his best friend Linus, who ultimately recites Luke 2:8-14. This passage says, "And there were shepherds living out in the fields nearby, keeping watch over their flocks at night. An angel of the Lord appeared to them, and the glory of the Lord shone around them, and they were terrified. But the angel said to them, 'Do not be afraid. I bring you good news that will cause great joy for all the people. Today in the town of David, a Savior has been born to you; He is the Messiah, the Lord. This will be a sign to you: You will find a baby wrapped in cloths and lying in a manger.' Suddenly a great company of the heavenly host appeared with the angel, praising God and saying, 'Glory to God in the highest heaven, and on earth peace to those on whom his favor rests.'"
Each of these verses is extremely compelling, displaying the power of God's Word and the emotional appeal to viewers. When these verses are referenced in popular films, they often leave a mark on the hearts of viewers.
We also see Bible verses used by some of our favorite brands, with scripture integrated into their products. Most of us know Chick-fil-A and Hobby Lobby for upholding their Christian values, including being closed on Sundays. There are also several popular Christian businesses that include scripture on their items. One of those companies is the fast-food chain In-N-Out, which discreetly places verses on soft drink cups and hamburger wrappers. The company showcases the verse John 3:16 on the bottom of cups and wrappers. Some other verses they reference include Proverbs 24:16, which says, "For though the righteous fall seven times, they rise again, but the wicked stumble when calamity strikes."
You may also be surprised to find out that the popular clothing retailer Forever 21 put their faith on display in their store. This is another company that includes John 3:16 on their products. The popular Bible verse is included on every shopping bag. They also feature apparel with Bible verses. Forever 21 founder Do Won Chang told CNN that it was important to share the message of God's love with others, so he placed John 3:16 on every bag.
"It shows us how much God loves us," Chang said. "The love He gave us, by giving us His only son, Jesus, was so unbelievable to me. I hoped others would learn of God's love. So that's why I put it there."
These are just a few places that Bible verses are referenced in popular culture. Kanye West released a gospel album that stayed on the Billboard 200 for weeks and consistently incorporates Bible verses and faith into his music and work. We also have artists like Lauren Daigle, who landed coveted performance slots at the Billboard Music and Grammy Awards. She also won Best Contemporary Christian Music Performance/Song for her hit "You Say." Then there are country stars like Thomas Rhett, who displayed his faith publicly at a CMT Artist of the Year presentation, where he took the time to openly pray for Kane Brown, a fellow artist who lost his drummer in a car accident.
These examples of faith in popular culture prove that faith is gaining ground and that it's ok to put your faith on display. Sometimes, these references are bold. Other times, they are discreet. Ultimately, we can see scripture displayed in mediums we may not even expect, and that's pretty awesome.