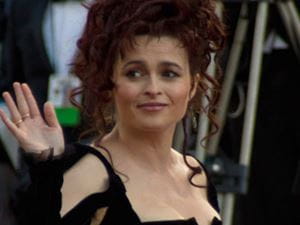 At the first glance, you may not recognize her because she's played such diverse roles as an actress and has continued to drastically change her appearance for each character that she portrays. Helena Bonham Carter has a long list of successful films – The Wings of the Dove, Fight Club, Planet of the Apes, Big Fish, Corpse Bride, Charlie and the Chocolate Factory, Harry Potter series, Sweeney Todd: The Demon Barber of Fleet Street, Alice in Wonderland, The King's Speech, Les Miserables, Cinderella, and Alice Through the Looking Glass…just to name a few.
Helena has proven that she's very talented and can take on the perception of any character. Despite her long listed resume, Helena has managed to keep a low profile and stay out of the limelight that the paparazzi tend to create. Here is what we were able to uncover about that the talented actress.
She speaks French fluently. In her 1996 French film Portraits chinois, Helena was able to perform the entire dialogue with no speech assistance.
Helena was a member of the 2006 Cannes Film Festival jury that unanimously selected The Wind That Shakes the Barley as best film.
In May 2006, Helena partnered with swimwear designer Samantha Sage to launch her own fashion line called The Pantaloonies. Their first collection was called Bloomin' Bloomers and was a Victorian style selection of camisoles, mob caps, and bloomers. The duo is working on customizing jeans for their apparel line.
During the filming of Harry Potter and the Order of Phoenix, Helena accidentally ruptured the eardrum of Matthew Lewis, playing Neville Longbottom, when she stuck her wand in his ear.
In 1994 Helena began dating Kenneth Branagh while he was still married to Emma Thompson. But, after five years together the relationship ended in 1999.
Helena and Tim Burton lived in two adjoining houses in Belsize Park, London. Helena owned one of the houses and Burton later purchased the other and they then connected the two.
Helena and Burton have two children together. Their son is named Billy Raymond Burton and daughter is named Nell Burton. Her daughter is named after the "Helens" in Helena's family.
Despite her controversial fashion choices, Vanity Fair named Helena one of their 2010 Best Dressed List and she was later selected by Marc Jacobs to be the face of his fall/winter 2011 advertising campaign.
She is the first cousin of Baroness Jane Bonham-Carter. She is also the great granddaughter of H. H. Asquith who was British Prime Minister from 1908 to 1916.
She was denied admission to King's College, Cambridge University, because the school was worried that she'd drop out to pursue acting. They sent her a letter thanking her for her interest, but advised they couldn't accept her because they didn't feel like she was fully committed.
Helena's mother is a psychotherapist and Helena pays her to read her scripts and give opinions on her characters' psychological motivations.
Her father became half paralyzed and confined to a wheelchair after a surgery to remove a tumor went wrong. She lived with her parents until her early 30s, so she could help her mother take care of her father.
Johnny Depp is the godfather of her son.
She is a distant cousin of Kate Middleton.
Helena McCrory, who played Narcissa Malfoy in Harry Potter, was originally cast as Bellatrix Lestrange. But, after McCrory became pregnant, she was unable to shoot all of the scenes so Helena got the part.
Helena has definitely taken on many roles and brought the character to life like no one else could've ever done. Her attention to detail and ability to act makes films great. There's no doubt we'll be seeing her in great films for many years to come.