You think you like chocolate? Ya gotta meet this guy, David Wolfe (that link is to his YouTube video about raw chocolate; he's shown here, left, with my friend and mentor, Philip McCluskey). I'd heard of Wolfe for quite a while — he's big in the raw food movement and has written several books — but had never met him. Through the magical grapevine of the World Wide Web, I happened to get invited to his 39th birthday party last week, held at a yoga studio in Soho and hosted by Gabrielle Brick (that's her in the gorgeous photo below). She's a raw food celebrity herself (the link is to an "E" Network segment on which she was featured). Gabrielle is also a chocolatier, the brilliance behind The 1 bar — raw, vegan, and sweetened with agave nectar.
Now, I gotta tell ya: I grew up being told that chocolate would rot your teeth, make you fat,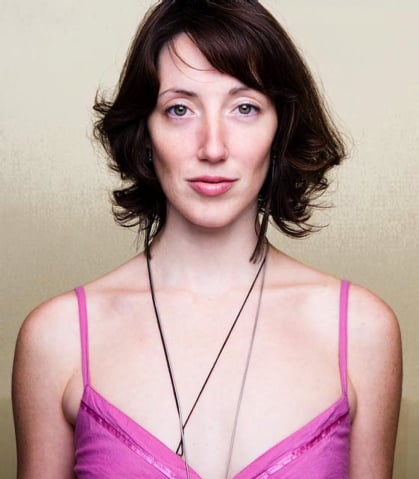 and give you zits till you were at least 60. It seems that it depends on the kind of chocolate you're eating. Consumed properly, cacao may actually be a wonder-bean. Here's what
Wolfe's website
has to say about this substance that he celebrates, markets, and grows on his farms in Hawaii and Ottawa (hothouse chocolate — who'd have thought?)
"
Contrary to popular belief, chocolate is not a "junk" food or bad for the human body. In actuality, cacao beans, from which chocolate is derived, are exceptionally good for you! Research has shown that there are over 300 chemically identifiable compounds in cacao beans, making it one of the most complex superfoods on planet Earth! Among some of these beneficial chemicals are, dopamine, which works as a neurotransmitter, tryptophan, an anti-depressant, and anandamide, a bliss chemical. In its raw state, this much loved treat is an incredible source of magnesium and is higher in antioxidants than most foods. So when you're in need of a mid-afternoon pick me up or a late-night aphrodisiac, cacao is sure to satisfy you, both physically and mentally."
I'm not suggesting that chocolate is the new broccoli, but as a treat, it's way out of the guilt category. What does that song say? — "A little of what you fancy does you good."
Order Victoria Moran's book Living a Charmed Life by clicking here and receive over 100 free gifts from noted teachers and authors including Mariel Hemingway, John Gray, Marci Shimoff, Judith Orloff, and Barbara Stanny.