With St. Paddy's Day coming up tomorrow, I was thinking about my favorite green drink in all the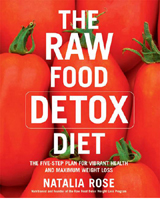 world — not beer with food coloring in it. It is, rather, "Green Lemonade," a delectable concoction to which I was introduced in The Raw Foods Detox Diet.
Author Natalia Rose suggests this fresh juice as the ideal start to the day, and I find that when I go for "Green Lemonade" before I have solid food or a cup of tea, I feel healthier and cleaner all day long. And it's absolutely delicious — the apple makes it sweet, the lemon makes it tart, and the having the life energy from those greens makes you feel like a superhero.
So, with thanks to Natalia (and wishing you all the luck of the Irish tomorrow!):
Green Lemonade
Makes 1 serving
1 head romaine or celery
5 or 6 stalks kale (any type)
1 to 2 apples (as needed for sweetness–Natalia recommends organic Fuji)
1 whole organic lemon (you don't have to peel it)
1 to 2 tablespoons fresh ginger (optional)
Process the vegetables through the juicer by admitting one vegetable at a time through the mouth of the juicer. The fiber will shoot out of the juicer into one container while the spout will eject the fresh juice into another container. Pour into a large glass and drink! Notice how the lemon really cuts out the 'green' taste that most people try to avoid.
(This recipe and The Raw Food Detox Diet are (c) Natalia Rose, 2006; the book is published by HarperCollins.)