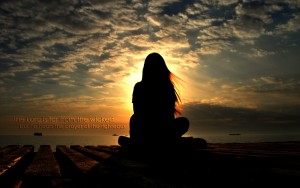 I want to share a word with you that I received. This message felt tailor made for me and I think it will for you too. We are all seeking God whether we know it or not…
Practice makes perfect says the Lord. Keep practicing My word and My ways and soon you will be just like Me. I am a jealous God and I do not want you sharing your affections on things that take you away from Me. Spend quality time with Me for I am always waiting to hear from you. You were created for relationship with Me. You will NEVER be fulfilled until every part of you fits into every part of Me. I am a righteous God and a caring God. Put ALL your trust in Me. I will turn My heart and face towards you and I will answer your prayers. I am eager to fulfill all the desires of your heart so do not become complacent says the Lord but keep your fire burning. Stay as in love with Me and I am with you.
Come out of complacency and do the thing you were doing when you first got to know Me. Keep the basics going- Read the word, remain in fellowship and seek Me on a daily basis. I am always ready to listen. You just need to come to Me with an open heart and an open mind.
I will help you
The enemy has worked overtime to side line you but I am changing all of that. The enemy has run game on you to keep you bound by opinion and held captive by judgmental and critical spirits. You have seen this operating in your own life at times, leaving you exhausted and compromised in your heart.
It is my goodness that leads men to repent. There is a place for mercy and a place for severity. Cast off the illegitimate expectations of others who have imposed the false burden of the negative. Become the encourager I have always called you to to be and you will be a repairer of the breach and a restorer of paths to walk in.
I have so much more for you, seek and you will find.