When we first started this blog in February, I made a few promises that I'm still trying to keep:
This is more than a religion blog. It's more than the sum of 50 church reviews. It's more than a blog about my spiritual journey. Or Joel's. It's a blog about us. And how every Sunday we force ourselves out of our comfort zones – because neither of us is even remotely comfortable in a church pew – together. Basically, we're bringing you along on our weekly scheduled dates with God. Sure, it's a journalist endeavor, but what you're really getting is a love story.
So let's get on with that shall we? Our summer started off with one of the biggest steps a marriage-phobic couple like Joel and I can take: we moved in together.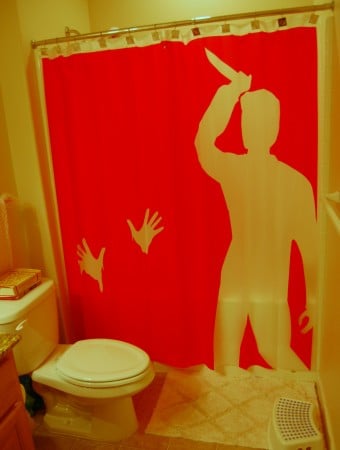 We'd been unofficially living together all year, but in July we made it official by signing a lease. Joel gave up his North Portland rental and we combined our stuff into my two-bedroom apartment, a process that included my gaining a panini grill and losing several feet of closet space. (HE HAS MORE JEANS THAN GOD!) (BUT YOU SHOULD SEE HOW GOOD HIS ASS LOOKS IN THEM!) It's painfully tight when all five of us are home at the same time, but I can't even begin to express how much it warms my cockles (and other bits) that when Joel uses the word "home," I finally know he means with me.
The day we moved in together was also the night we went to Augustana Lutheran for the evening jazz service, a church with which I had a love/hate experience.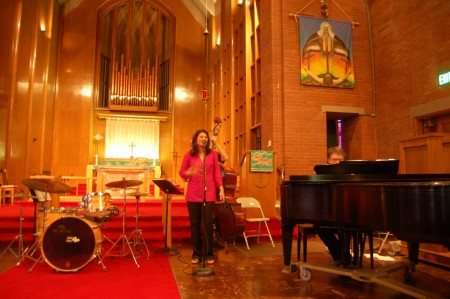 At first they had me with the music, which began with one of my all-time favorite standards, a near perfect song for the day we combined our two separate houses into a single home:
"I'm gonna love you like nobody's loved you
Come rain or come shine
High as a mountain and deep as a river
Come rain or come shine…"
Of course the pastor lost me just as quickly with his personal political agenda, in which he wasted almost every minute of his pulpit time lecturing about the perils of our government's defense spending. Very little annoys me more than when the blurring of the lines between church and state happens IN CHURCH.
Fortunately for Joel, who loved Augustana the way I love The Bridge, I may eventually be able to forgive the pastor for bragging about how they're working with Cease Fire to collect enough guns to melt into a new bell for the church's bell tower. I'll roll my eyes, indeed, but I'll probably still be back on baldman's arm. But only because the music was THAT good.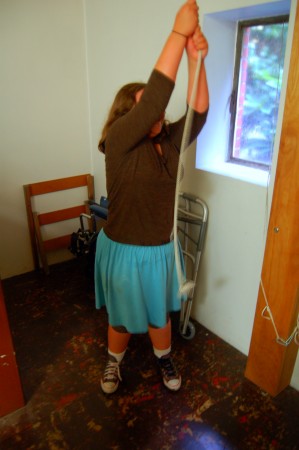 The following Sunday we went to a Mormon church, which was ironic because we had just finished the first week in which all five of us lived together under the same roof and that was 50% more children than either of us had ever had under one roof before. It felt very MORMON. Needless to say, by the end of that first week, I was utterly drained. We both were. The post-divorce family-merging landscape isn't the easiest to navigate, not even when you're semi-coherent, ridiculously in love and doing your best to make it all work. It's still hard.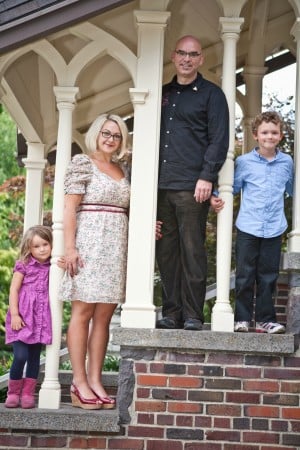 Before we went to our first LDS service, the only thing I really knew about Mormons was that I had never met a Mormon I didn't like. They're just so… SOLID, you know? Good, friendly people with ruddy cheeks, firm handshakes and basements loaded with pork and beans. They might have some whacked out religious beliefs, but they're the kind of folks who are able to laugh about themselves.
I'm happy to say that even AFTER our first LDS service, I have STILL never met a Mormon I didn't like. I know everyone thinks of them as a cult and perhaps they have some cult-like qualities, but my takeaway was that this is a nice religion for nice people with nice intentions and nice dresses. They take water and WONDER BREAD for communion, for God's sake! These people are harmless! The only way they might kill you is with kindness or by BORING you to death. Sitting through a sacrament meeting is about as exciting as watching two hours of C-SPAN.
They even let the women vote, just like in Congress!
Of course, even as benign as they are, I could NEVER be a Mormon. My morality-dar is too far off the chart for them. I mean, Mormon women have to obey their husbands. And since sex before marriage is forbidden, they actually need to HAVE husbands, so they pretty much lose me right there. They're also not allowed to drink coffee. Or booze. Or smoke cigarettes. So even if I WANTED to join, they'd never have me because I break most of those rules almost every day of my life.
However, I did love the music. The lyrics! Good Lord! I love me some loin girding!
"Come, Come, Ye Saints" is hymn #30 in the current LDS Church hymnal:
"Gird up your loins; fresh courage take.
Our God will never us forsake;
And soon we'll have this tale to tell-
All is well! All is well!

And should we die before our journey's through,
Happy day! All is well!"
I guess that's the best part about having your own personal branch of heaven: you don't have to worry so much about death!
I think it's worth noting that the afternoon following our attendance at the LDS Church, I went down to Planned Parenthood and traded in my expired IUD for a new one. Not only are Joel and I unmarried fornicators, but we use a form of birth control generally frowned upon by the Mormon faith.
So yeah, LDS, you're a nice place to visit, but just like Florida, I wouldn't want to live there.
Next up: Quakers make me bawl. And not just because I finally got to hang out with my long-lost older brother.