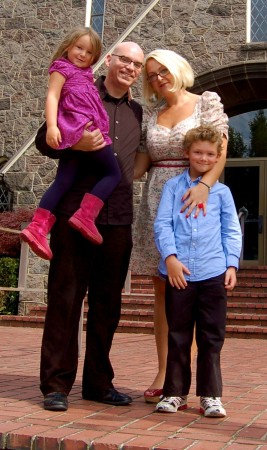 Amanda here, just checking in to let everyone know Joel and I haven't disappeared! We're still going to church (see photographic evidence above)! It's just been an incredibly busy summer – I'm in school and Joel just opened a new business – and neither of us has reliable childcare, which means our writing time has all but vanished.
But fear not! We fully intend to catch up and we've got two weeks of childless freedom beginning this Monday. I know what you're thinking because it's what I'm thinking too: BOW CHICKA WOW WOW! But we promise to ALSO carve out enough time to write about our recent trip to the Mormon Church and this Sunday's highly anticipated Quaker service.
In the meantime, feast your eyes upon the majesty of our most-recent achievement – we were named one of Portland's BEST READS by Willamette Week. We celebrated hard at their BEST OF PORTLAND party, which is how I obtained this photo of Joel under the influence of Colt 45. I'm pretty sure malt liquor is one of the ten deadly sins.