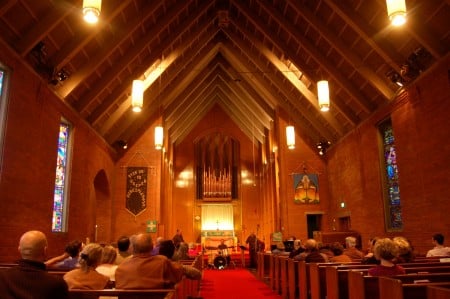 I was still a teenager when I first met world class drummer Ron Steen. He'd dropped by my jazz band class at Jefferson High School—then a performing arts "magnet" school—to offer some of the young turks like myself a few words of advice. Being 15, a drummer and roughly as neurotic as I am now, I couldn't pay attention, because I knew that at some point he would sit in with the band and make me look like a rhythmless idiot. I don't remember a damn thing he said, but he sure was a nice guy—and he didn't sit in.
A couple of years before, Ron had returned to Portland after slumming around the world, playing with with jazz greats like Dexter Gordon, Joe Henderson, Eddie Harris, Milt Jackson and Bobby Hutcherson. Back in town, he immediately started putting other drummers out of business with a dizzying schedule that rotated between Jazz De Opus, Delevan's (or was it Remo's?), Cousin's, Parchman Farm, Geneva's and a bunch of other clubs that have gone under or been frappéd in the karaoke Cuisinart. (God, I feel old.) Always affable and encouraging to younger talent, Ron's jam sessions became the best (and, finally, the only) place to schmooze with other musicians and steal their licks. I drop by his jams every once in a while myself. I've also watched him perform, in slacked-jawed awe, more times than I count.
So, when I heard that Ron was doing a church service gig each Sunday at Augustana Lutheran Church in Northeast Portland, my reply was, "when do we go?" My next thought was: seven nights a week isn't enough? He has to play on afternoons too? Nice work if you can get it.
So last Sunday we piled into the car and headed down to the church for an evening Lutheran service featuring a "Weaving of Scripture and Spirit." In addition to Ron, there was Karla Harris on vocals, Ed Bennett on bass and Dan Gaynor on piano. Dan and I played together in a couple bands a few years ago, so it was great to run into him again. Good people, loaded with talent and chops.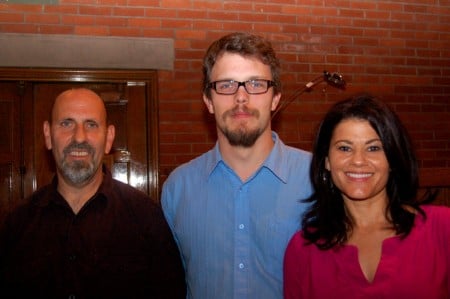 I'm a sucker for live jazz performed without a PA system. The difference is akin to that between an open fireplace and an iron wood stove: technology often conceals as much as it magnifies. So this church, with its lofty, wooden peaked ceiling and brick walls supplied a perfect excuse to put the amplifiers away. (Karla, however, did sing through a microphone.) Yum.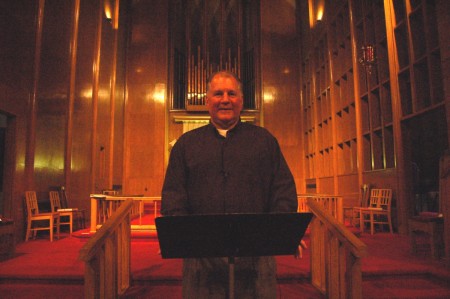 Here's how the "weaving" works. Portions of the service, such as prayers, sermons and Bible readings are interspersed with performances of jazz standards. Led by Reverend Mark Knutson (who, naturally, used a music stand in place of a pulpit), the program went something like this:
Song title: "Once I Loved"
Announcements, including a comment on the weather.
Song title: "Sunny Side of the Street" (What else would they play?)
Readings: Isaiah 44:6-8; Romans 8:12-25;
Song title: "Call Me"
Reading: Matthew 13:24-43
Song title: "Agua de Beber"
Song title: "I'm Gonna Love You Come Rain or Come Shine"
In this context, the pop lyrics in this set list took on a spiritual dimension. For instance, it's one thing to wake up to your clock radio's classic pop station and hear Petula Clark warbling "Call Me." It's quite another to sit in a house of prayer and hear the words:
If you're feeling sad and lonely
There's a service I can render
Tell the one who loves you only
I can be so warm and tender
Call me
Don't be afraid, you can call me
Maybe it's late, but just call me
Tell me, and I'll be around
When it seems your friends desert you
There's somebody thinking of you
I'm the one who'll never hurt you
Maybe that's because I love you
If it also seemed that the band had a special weakness for bossa nova, it could be more than coincidence that the rhythm, rooted in the Brazilian idea of saudade—a longing for past innocence or, perhaps, a homeland—resonates with the Judeo-Christian culture's yearning for a return to paradise.
The service ended with the only overtly Christian song of the bunch, a bossa nova rendition of Abbey Lincoln's Throw it Away.
Amanda may want to make The Bridge her home, but as long as there's live, top notch jazz at Augustana Lutheran, I say: get me to the church on time. The religious part wasn't bad either. Who could ask for anything more?