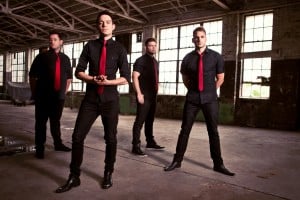 Independent bands are typically a dime a dozen. Anyone can spend their own money to make their own record. And most of those bands, no matter how talented they might be, usually get lost in the highly competitive music industry
That's what makes Hearts of Saints so unique. The four-piece band has found a way to capture the attention of Christian music fans thanks to its penchant for self-marketing (via digital and social platforms) and an undying commitment to authentic ministry.
Whole Notes recently caught up with Hearts of Saints lead singer Craig Felker via email to talk about the balance between worship and rock music, the advantages and disadvantages of being independent, and how one tragic story greatly impacted the band:
Chad Bonham: Which came first, Hearts of Saints the worship band or Hearts of Saints the rock band?
Craig Felker: We've always led worship. In fact, early on we really developed as a band by leading worship at a local church in my hometown of Paducah, KY. All four of us grew up playing worship in church long before Hearts of Saints ever existed.
Bonham: On a practical level, what are the challenges of balancing both sides of what the band does creatively?
Felker: I'm not sure it's a challenge as much as it's understanding the agenda. When we were writing the songs for the worship record we wanted to make sure we used language that encouraged and united brothers and sisters to sing together in adoration. That's why you see the emphasis on using words like "we," "us" and "our." In addition, we really focused on using scripture as the backbone for the worship disc. I can't write better lyrics than the truth that exists in scripture, and we just wanted to write fresh expressions from that base. As for the rock disc, we thought of the live audience when creating these songs. That's why you'll hear a lot of gang vocals and big anthemic choruses. The agenda was all about the energy and impact these songs could have in our live show.
Bonham: What are the benefits to being able to nimbly move back and forth between both streams?
Felker: I think it allows us to connect with a larger audience, which creates more opportunities to speak about the Good News of Christ. You can't be all things to all people, although Paul definitely talks about that in 1 Corinthians, but I think this record gives a full picture of who we are today as a band. We're not a rock band covering worship. We absolutely feel called to do both.
Bonham: What are the advantages of being an independent artist in today's cultural climate that emphasizes empowering technology and social media?
Felker: Great question. I think creative/artistic freedom is the big advantage of being an indie. In this specific instance, we had the liberty to be both a rock and a worship band, which we most likely would not have been able to do otherwise. Another advantage of being an indie in today's culture is the freedom to control social media content to stay connected with our fans. Recently, we started a Facebook/Twitter "share our new album" marketing campaign to promote For All of Us. We planned and implemented this plan in less than 24 hours.
Bonham: What are the disadvantages of being an independent artist and how have you overcome those challenges?
Felker: Radio…Radio…Radio. Did I say radio? While independent artists are receiving more credibility that ever, it's still very hard for an indie band/artist to receive significant radio airplay in the Christian market. There are multiple factors behind that, but it's a very competitive market and radio stations only have a few spots each week to add new songs. Ultimately, you have to write great songs and find the Lord's favor. In all seriousness, our Christmas single "The Shepherd's Song (God With Us)" broke into the Billboard Top 20 in December, and we were humbled and honored by the news. We really hope that continues with this new record so more people can hear our music and message.
Bonham: What creative influences (outside of other artists) have had the greatest impact on the band's sound and songwriting?
Felker: I'm really not trying to be cheesy here, but it's the scriptures and the gospel. More than ever, we've really leaned on God's Word for vision and direction on this record. That's where we find truth about God's nature and great love for us, which shapes our identity and story. In a lot of ways, I'd say that's what this record is all about—our story wrapped together in His.
Bonham: When it comes to your worship music, what is the general theme that tends to emerge from your writing sessions?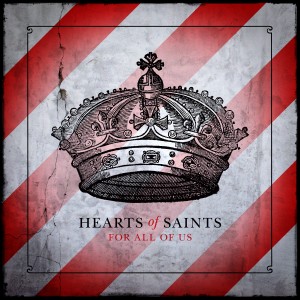 Felker: With the worship music on For All of Us it's all about Identity. A song like "Out Of The Dark" (based on 1 Thessalonians 5:4-5) really speaks about this theme. As the chorus says: Hallelujah/ Christ has overcome/The Son has risen, the song is about understanding our identity as sons and daughters of light. It's about realizing that God has already conquered death so that we might have freedom to live in Him. Despite what we may face or what we've done, God loves us, redeemed us and wants to give us eternity. This hope we have in Christ is not something we're waiting on; we walk in it now!
Bonham: What about your narrative songs? Is there a particular message that tends to find its way into the rock material?
Felker: I think on the rock material you see a few main themes. Songs like "Flash" and "Attraction, Distraction" focus on being distracted by things in life that really don't matter like fame, self-pursuit, etc. While songs like "Birth of a Legacy" and "Battle Cry" are modern rock anthems that present a direct call to fight with love for justice by giving ourselves away. Ultimately, that should be the theme of everything we do. When we give ourselves away, that's where we find life.
Bonham: Long set up for this question, but after reading your story about the fan who took her own life, I was reminded of a church service I was in recently where the speaker had been suicidal for most of his teen years and through his early 20s. He gave an altar call for those in the crowd who have been tormented with suicidal thoughts and 18 came down out of several hundreds of people. I was shocked that so many answered the call.
So here's the question: Was your experience hearing about this girl an eye-opener when it comes to suicide within the walls of the church and how has that impacted your ministry focus?
Felker: I'm not sure it was an eye-opener as much as it was humbling. We just kept thinking, "What could we have said? What could we have done to prevent this?" That's a tough road to go down, but we definitely were asking ourselves those questions. Before this particular story, we were aware of fans having issues with self-mutilation, suicidal thoughts, divorce, etc., But this definitely impacted our focus. I think now we attempt to verbalize the gospel to every audience and communicate how much God really loves them. We just want people to know that they're not alone, that we were never intended to be alone and that Jesus promised He'd be with us until the end of the age.
Bonham: Can you give me a specific example of how her story (and other stories like it) have inspired the band to help people struggling with emotional pain whether that might have been through a one-on-one opportunity, from the concert stage, etc.?
Felker: The stage has always been a platform for us to be relational. We just love people. So we always attempt to connect with others after shows and stayed involved as much as possible. I think now, more than ever, we just speak more boldly than before. Ultimately, this is about discipling and sharing the love of Christ. Recently, we had a fan reach out to us about her drug issues via social media. This led to a series of conversations, and I'm happy to report that she is now two months sober from serious drug abuse. It's not anything we're doing, but what the Spirit of the Lord is doing. We just want to speak truth and be encouragers.
Keep track of the latest tour dates and other band news by visiting the official Hearts of Saints website.