Click "Like" to share this with your friends!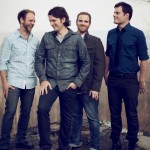 After an international search, Downhere lead singer Marc Martel was selected to portray Freddie Mercury in next year's highly anticipated Queen Extravaganza tour. Martel famously blew up the internet with his You Tube performance of "Somebody To Love" and later performed the song on "The Ellen Degeneres Show."
The live auditions took place earlier this week in Los Angeles where finalists were put together in various combinations to perform Queen songs for the panel of judges that included Queen drummer Roger Taylor, Spike Edney (the band's keyboardist since the mid '80s) and long-time sound engineer Trip Khalaf.
A few weeks ago, Whole Notes spoke to Marc who said that although he has fought comparisons to Mercury for years now, he agrees that his rise to notoriety because of that quirky similarity proves God has a pretty good sense of humor.
"Absolutely," Martel told Whole Notes. "And I think the last 10 years have been a preparation for me to be able to handle this. I don't think I could've handled this 10 years ago. God's moving in this very obviously."
To check out the full interview, which includes his initial internet audition, click HERE.