Click "Like" to share this with your friends!
Siblings Laura and Sam Allen grew up on a Christmas tree farm in Tampa, Fla. Even though music was in their blood, they had no idea they would end up in Nashville (with friend Chad Smith) signed to Curb Records and traveling across the globe to places like Thailand and United Arab Emirates. In this Whole Notes interview, Laura Allen talks about how No Other Name was formed, what the group's music is all about, what it's like writing and performing with her brother, and how she hopes their debut album The Other Side impacts listeners:
Chad Bonham: Tell me about how No Other Name came together.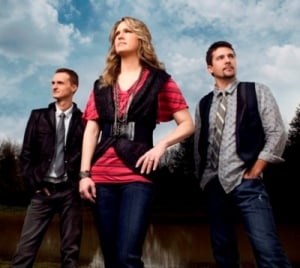 Laura Allen: My brother and I grew up in a musical family. We have an older sister who sings and plays the piano. Our dad is a musician. Music was always a part of our lives. In the late 90s, we attended a camp that was held in Nashville for aspiring Christian musicians on the campus of Belmont University. Sam and I just loved it. There was all sorts of performance training. There were songwriting classes and music theory classes and private lessons you could take from instructors. We actually met Chad (Smith) there. He was also attending for the first year and we ended up hitting it off with him and we performed with him at the camp and had a great time. So the next summer we decided to come back and do it again and Chad was there again. He was from Louisiana. And after that, we just felt like there was something special there and that maybe it was what God wanted us to do. So we went back to our respective homes and prayed about it and thought about it for about six months and decided to move to Nashville. And here we are.
Bonham: How has your family's musical background shaped your career and influenced the group musically?
Allen: We grew up kind of a conservative church growing up. The music that we were exposed to and that we sang was very church centered and had a Gospel music background. Even though we don't do that style of music, I would say that influence is still there. We really gear our music for the church. We try not to do a song that we would be uncomfortable doing any Sunday morning from a church stage. That's just where our ministry is directed and what God has called us to. There's a place for all types of music, but that's just what we are striving for, music that's very accessible for the church, whether that's praise and worship or inspirational. To me, Gospel music is really any music that's a testimony and tells a story of what God has done in your life. We are drawn to those kinds of songs—songs about hope and Heaven and things like that. Even though the style of music that we do isn't really what we grew up, the themes are certainly in that same vein.
Bonham: What has the journey been like since you took that leap of faith and moved to Nashville?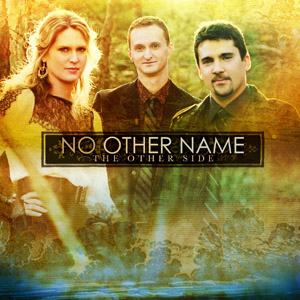 Allen: You're never where you want to be. There's always waiting. There's always some new project that's coming down the road—some new thing you're working on, some creative direction you're wanting to explore. You never arrive in this business. I'd say that's even true for the most successful artists out there, the ones that are household names. Nobody ever feels like they've arrived. That's just the nature of being a creative type of person. You always feel like you can get better or reach more people. There's definitely been a lot of patience. Early on, there were a handful of times when we thought, "Okay, are we sure we really want to do this?" This was before we all got married and rooted ourselves here in Nashville. But we always felt like this is what we were supposed to do even though sometimes it was really hard. We always felt like we needed to stick it out. God has always opened one door after another. Sometimes you think all the doors are closed and just when you think that, a door opens.
Bonham: How would you describe your music for someone who has never heard it before?
Allen: It's contemporary, inspirational, full of hope, encouraging. When I say inspirational, I mean that in two ways. In one way, we just want to be an encouragement to people and be a comfort in the way that only music can bring. But also I mean inspirational in the sense that we hope that something we sing or something we sing in a lyric is going to inspire someone to get moving, to get involved somewhere.
Bonham: Do you write your own music, use other people's songs or co-write with other writers?
Allen: It's half and half. We write about half of our songs and the other half is either stuff we've arranged—like classic songs we've loved for a long time or hymns that we've modernized. The other half is stuff that's brought to us by friends of ours or brought to us by our label. We do some co-writing. Sam and I write together a lot. I'm more the lyricist and he's the music person although it does overlap. There's not a set formula that we have.
Bonham: Do you and your brother Sam still fight like typical siblings or are you past that phase of your relationship?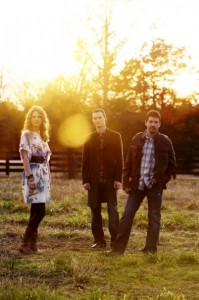 Allen: Oh, no way. We fight like crazy. We really do. (Laughs) I don't know if this was good parenting or bad parenting, but my mom never settles our battles for us. If one of us went to her and said, "Well he did this," or "She did that," rather than even investigate it, she would say, "Oh, sorry. Work it out." So we kind of had to learn to work it out. I think that's really served us well. We learned to do that as little kids. We don't fight all the time, but we do have our moments. But we've always worked it out and we've never been mad at each other for longer than two or three hours and then we're back again. For our songwriting, I can decide if it's a blessing or a curse to write with each other because we're so comfortable with one another that it's very easy to criticize. I might come up with a lyric and he'll just say, "Oh no, that's stupid." If I'd been writing with somebody else, they might have been hesitant to say that. Sometimes it can take us forever to write a song together because we're so comfortable with each other and we're very free to say what's on our minds. But we make it work.
Bonham: What are your hopes for the future and how God uses the group?
Allen: It's always been interesting to me that things have happened that we really haven't expected all along. Sometimes the things you plan for and hope for don't end up coming through and the thing you weren't really thinking about is the opportunity that kind of just blows your mind. I hate to even put our selves in a box like that. It seems like God is always surprising us. We just want to continue to do what we're doing. We want to minister to the church and try to reach as many people as we can and encourage people to find their roles within the Great Commission. That's really where our heart is in this stage of our ministry. That's all I'm hoping for—just more opportunities to do that.
Stay up on the latest news from No Other Name by visiting the group's official website HERE.