Click "Like" to share this with your friends!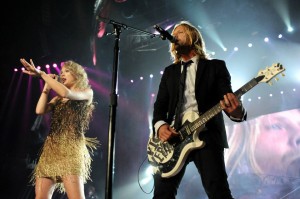 Over the weekend in Glendale, Ariz., Taylor Swift surprised her fans by bringing special guest Jon Foreman onto the stage for a performance of Switchfoot's hit song "Meant To Live." Switchfoot was in the area for a concert that same night at Grand Canyon University.
When introducing Foreman, Swift described Switchfoot as one of her favorite bands.
Switchfoot performed it's latest hit "Dark Horses" on "Conan" this week (Tuesday, October 25). You can watch a replay of that by clicking HERE.
And if you want to see some of Foreman's performance with Swift, check out a fan video of the special moment below:
http://www.youtube.com/watch?v=IyPCOoFd72M
Also, you can check out the Whole Notes interview with Switchfoot's Jerome Fontamillas by clicking HERE.