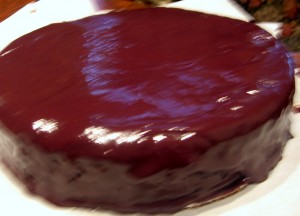 Areyou ready to "FALL" in love with this decadent gluten-free flourless cake?? It also happens to be vegetarian and will a few simple subsitutions can be vegan!
A good friend of mine had her bridal shower this summer. We put together a recipe book for the bride-to-be, and here is my submission. Make this for anyone you love, especially yourself!
Falling In Love Flourless Chocolate Cake Recipe
Ingredients
* 10 oz. of semisweet chocolate, roughly chopped
* 7 tablespoons of unsalted butter, cut into pieces
* 5 large eggs, room temperature
* 1 cup of sugar
* 1/2 teaspoon of cinnamon
* 1/2 cup of dark chocolate cocoa powder
* Dash of cayenne pepper
* Pinch of salt
* Powdered sugar for dusting (optional)
Method
1 Preheat the oven to 350°F. Line the bottom of a 9 ½ inch springform pan with a circle of parchment paper. Grease the sides and the parchment with butter or non-stick cooking spray (I love Pam for Baking cooking spray, myself).
2 Melt the chocolate and butter together over a double boiler or in the microwave, stirring occasionally until smooth.
3 Whisk together the eggs and the sugar in a large bowl, and then slowly, a bit at a time, whisk in the melted chocolate. Add the salt and spices/cocoa and taste, adjusting the spices if needed.
4 Pour into the springform pan and bake for 22-25 minutes or until a toothpick comes out clean. Let it cool completely on a wire rack. Dust with powdered sugar and serve.
Enjoy!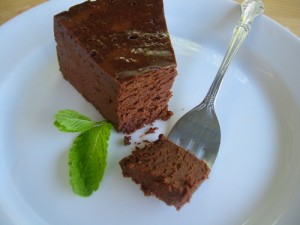 More related features: