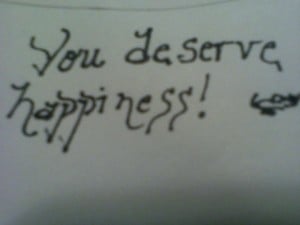 Come on everybody, let's work together… That sounds like a cheesy line from a song, but isn't it true? How often have you been stressed out, wiped out, or just plain out, and then something miraculous happens. A friend drops by unexpectedly or a stranger offers a helping hand. Then you start to realize that the world seems like a brighter and better place when we help each other.
I have a weekend challenge for you ( and myself ). Don't worry, it's not difficult and the benefits are well worth it!
Ready?
Do something nice for someone else, with no expectation or pretense. You don't have to stop at once thing, in fact I encourage multiple acts of kindness!
How will you make someone's day, week, or year?
3 Ways to help and comfort
1) Understand Cause and Effect: Rather than feel powerless in the face of all misery you see or read about in the paper and instead of being annoyed by the solicitations for money you get in the mail, find a cause that really means something to you. Call and find out how volunteers can get involved. Even if it's just for an hour a week or a single special event, showing up and helping out in person can alleviate that paralyzing sense of powerlessness-you'll benefit and so will a cause you believe in.
2) Help!: Take the time to help; whether it's a stranger than needs directions, a child who needs extra attention learning to read, or an elderly neighbor who needs assistance. By helping others you also help youself.
3) De-stress Yourself: Sometimes the best way to take care of the world is to be sure you are taking care of yourself. Learn to recognize your own signs of being overly stressed, and do something about it, before it seeps out at work, while driving, or at home.
More related features: