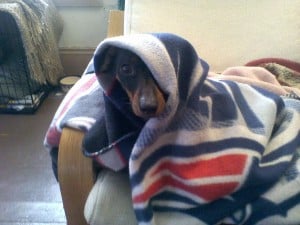 This post is a little different from the things I've posted before. This  is all about my puppy Roxie. I talk often about the trouble she gets into, things she eats, tears up, and just general  puppy trouble making. Roxie is a miniature dachshund and 10 lbs of pure mischievousness.
Here is life from the point of Roxie:
Eat a few pieces of puppy chow.
Climb on desk.
Eat makeup.
Chew clothes.
Take clothes under couch. Hide them.
Get on table.
Eat napkin off of table.
Get bored.
Get off of table.
Harass sister.
Eat sisters food.
Eat another piece of makeup.
Curl up on couch.
Sleep for approximately 2 minutes.
Look cute.
Repeat.
More on pets: