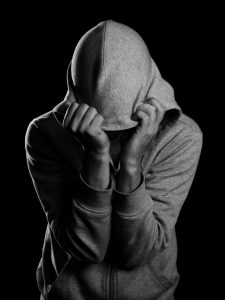 Whenever you're in the middle of an anxiety attack, do your thoughts swirl around you? Do you feel as though the world is spinning out of control and you can't stop it? How often do you have those feelings in your head and your heart? Once an anxiety attack hits it's pretty hard to focus on anything but the anxiety itself, isn't it?
It's tough to believe that God hears your prayers when you're in the middle of an anxiety attack. Satan wants you to focus on the what ifs more than God, thus keeping your focus headlong on the problem and making it more than what it is. Even after some reassurance from the people we love, it doesn't always help. Even when God answers your prayers when you're anxious you forget to thank Him for answering them until way later. It hits you like a rock like, "Hey wait that was God granting my request. Wow, He heard my prayer!"
Those times of realization can happen at any time and anywhere. They can happen while you're alone or with your family or friends. They can also happen while you're driving or while you're putting the dishes away after dinner. They can happen when something works out in your favor such as a promotion, or getting the job that you wanted, even though you weren't sure if God planned to give you the job.
Remember, your anxiety isn't from God. He doesn't want you to be anxious about anything. Satan wants your focus to be taken off of God, so you forget about how blessed you are. Satan wants you to focus on how stressed your anxiety makes you. He wants to take your mind and mess it up to the point where you drive yourself crazy. God even says that you shouldn't be anxious in His word. Here are some of the examples that are so plainly in front of you every day. All you have to do is seek them out and look for them. They can help you in your times of anxiety.
1 Peter 5:7 "Cast all your anxiety on him because he cares for you."
Philippians 4:6-7 "Do not be anxious about anything, but in every situation, by prayer and petition, with thanksgiving, present your requests to God.  And the peace of God, which transcends all understanding, will guard your hearts and your minds in Christ Jesus."
Philippians 4:13  "I can do all this through him who gives me strength."
Isaiah 41:10: So do not fear, for I am with you; do not be dismayed, for I am your God. I will strengthen you and help you;  I will uphold you with my righteous right hand."
Joshua 1:9 "Have I not commanded you? Be strong and courageous. Do not be afraid; do not be discouraged, for the Lord your God will be with you wherever you go."
God wants you to remember that He is with you and that you can turn to Him for anything. He doesn't want you living with anxiety every day. Too much stress can literally ruin your mindset, and it can turn your heart away from God really quickly by making you think that you have to be in control of everything in your life. It can make you sick very quickly if you let the anxiety go too far. It can affect your eating habits, and it can make you lash out at people without even meaning to.
God doesn't want to see you suffering. However, there are times when He may use the anxiety that is in your heart, soul, and mind to get your attention. He might be using the fear that you're having, to get you to turn back towards Him and to admit to Him that you can't do things without His help.
Have you ever heard of the saying "God isn't above breaking your leg to get your attention"? That means that God isn't above doing something drastic just to get your attention to turn you back towards Him. Other examples of this saying could be something like, "God isn't above giving you the anxiety to help you admit that you need Him," or, "God isn't above not answering your prayers in your timing because His timing is always best." It could even be as drastic as "God isn't above letting you have any kind of sickness to get your attention."
Even though it may not seem fair to you that you have anxiety, God can and will get you through it. Remember, there is nothing that can't be done through God's power. Anxiety isn't from God. So do your best to turn the way you feel into a prayer asking God for help. If you need help thinking rationally about a situation, then ask Him for that clarity that you need. If you need help turning negative thoughts about a situation, or negative thoughts about someone into a prayer, ask Him for guidance. If you need help to focus more on Him instead of your anxiety, call on Him, and He will answer you.