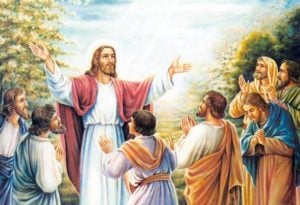 Are you standing on God's promises? What does it really mean to stand on God's promises? It means doing our best to learn more about Him daily, and long to be in His presence. It also means not fearing the future just because it is unknown. Why not trust our unknown futures to a known God? Whatever happens, He already knows about it and wants what is best for us. There are so many promises in His word. Here are just a few examples of His promises.
2 Peter 1:4 says, "And because of his glory and excellence, he has given us great and precious promises. These are the promises that enable you to share his divine nature and escape the world's corruption caused by human desires." You can share in God's awesome and divine nature and share His word with others in your faith walk. You can also escape the corruption of the world by reading His word daily and by spending time with Him through prayer.
When things get hard, the last thing we do is think about hitting our knees in prayer. It is often the last thing we think of until after we've wasted precious energy in complaining about how terrible things are in any given situation of our day to day life. Our desires should be to learn more about God instead of letting the desires of our flesh and the desires of the world cloud our judgment and our faith walk.
Jeremiah 29:11 says, "11 For I know the plans I have for you declares the Lord. Plans to prosper you and to give you a hope and a future." This verse gives us so much hope. He promises to give us hope in the midst of sorrow and hardships. He also promises us to give us hope and a future that only He can provide. Who wouldn't want a future with God in control of it? Wouldn't you rather have your future in the hands of God than try to make it on your own?
Mathew 11:28-29 says, "Come to me, all you who are weary and burdened, and I will give you rest. Take my yoke upon you and learn from me, for I am gentle and humble in heart, and you will find rest for your souls." We can always come to God no matter how weird we may feel or how desperate we may feel. We can always come to Him no matter what is going on in our lives. He will give you peace and rest right when you feel like you can't take it anymore. Put your burdens on Him because He knows exactly how to lift stress from your shoulders and your mind.
Isaiah 40:29-31 says, "He gives power to the weak and strength to the powerless. Even youths will become weak and tired, and young men will fall in exhaustion. But those who trust in the Lord will find new strength. They will soar high on wings like eagles. They will run and not grow weary. They will walk and not faint." What better promise than to know that God is in control of our lives and if we are steadfast in Him our strength will be renewed daily. Even though we will run through our lives and be exhausted at times, God will not give us more than we can handle, and He will always give us a way out when there seems to be no way. We can walk with God knowing that we will be protected everywhere we go.
Philippians 4:19 says, "And this same God who takes care of me will supply all your needs from his glorious riches, which have been given to us in Christ Jesus." The promises that he will supply all of our needs, whether it is the need for food, financial support or getting clothes for someone we love or for ourselves or getting a job, is all in his hands. It is so much better to let Him have control over every aspect of our lives. The same God who is there for us will never abandon us. He will give us everything we need to support our body and life.
Romans 8:37-39 says, "No, despite all these things, overwhelming victory is ours through Christ, who loved us. And I am convinced that nothing can ever separate us from God's love. Neither death nor life, neither angels nor demons, neither our fears for today nor our worries about tomorrow—not even the powers of hell can separate us from God's love. No power in the sky above or in the earth below—indeed, nothing in all creation will ever be able to separate us from the love of God that is revealed in Christ Jesus our Lord." This is another awesome promise that absolutely nothing can separate us from God's love. No matter what we do or how we feel, God will never give up on us.
John 14:27 says, "I am leaving you with a gift-peace of mind and heart. And the peace I give is a gift the world cannot give. So, don't be troubled or afraid." Who wouldn't want the ultimate gift of peace through God? He gives us peace in our minds and our hearts. He is speaking the ultimate truth when He says that He gives peace that the world can not give. We don't have to be afraid of anything because God is always there for us and He won't give us anything we can't handle. When we feel afraid we should remember that all we must do is pray and call on Him to find peace.
I pray that all of these promises can give you peace and calmness during any hard times and in your everyday life.