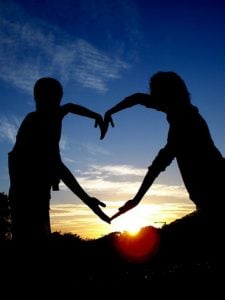 If we want to change the world, we have to start dreaming so much bigger.  We must unconditionally love the group of people we have been assigned to. Whether it is people that you live with, work with or anyone you interact with. When you love people, it's easy to sacrifice for them. Part of my daily prayer is that I try to be more of an example of Christ and exemplify His behavior in all I say and do. It isn't easy by any means, but then again no one should ever expect life, especially as a Christian, to be easy.
Our faith walks are hard and often filled with uncertainty and strife. It is up to us to choose how we react to these situations in our everyday life.  I pray that I would love people more, even when they irritate me and especially when it is hard to get along with them. I pray that I start showing them the same grace that Jesus showed and shows us daily. Look at how much grace He showed us by dying on the cross for our sins, when the reality is, we all deserved eternity in Hell for our actions against God and against our fellow man.
I pray that I don't let my mouth take control of my heart and that I don't let nasty words that I can't take back, come out.  I pray that I would see people as He does. I pray that I would try and love people around me as He does. I pray for you to do the same.
Once we truly start viewing people through the lens of Christ – we must start to realize, that loving them is impossible to accomplish unless Jesus shows up in our hearts, souls and minds. But it is not only about dreaming big about how Jesus has influenced us in our lives and how He will influence us, but actually dreaming with Him in how He wants to use us to influence and impact the people  we have around us
Look at the people you have around you. Maybe you are put in the work scenario that you're in right now in order to be His witness. Maybe you can be a witness to your friends and coworkers.
You have been assigned to be a family member to many people. Always being there for them isn't easy. Some days it can even make you angry. They may not always appreciate you for the things you do for them, or they may not tell you thank you all the time. But, don't let that stop you from being the Godly example that you know you can be. It is easier to help those who need it the most when we don't expect anything in return, when you do it out of the goodness of your own heart. Look at it this way- if you are wanting recognition for anything and everything you do for others, are you really looking to glorify God, or are you looking to glorify yourself and draw attention to yourself?
Where you live and where you work are your main groups you are called to serve. You see, when we dream things that are within our own means to accomplish, it only promotes us. But when we start dreaming and partnering with Him, we get to step into the realm of impossibilities. When we start to do things that the world will look at and know there is no way we could have done that on our own, that's when Jesus gets His reward, instead of us getting an award for doing it ourselves. That is when Jesus shows His glory to everyone.   Wouldn't you rather be able to give God the glory for what He has done in your life and for the things He is about to do in your life? Wouldn't you rather pray for Him to work in many other amazing ways in the lives of people around you, instead of drawing attention to yourself? Wouldn't you rather acknowledge the One who helped you realize the things you need to change in your life and be a witness for Him, rather than feeling like the world needs to look at you?
We often feel like God has abandoned us when we don't feel His presence, but that is when He shows up in ways that we can only fathom. That is when He shows His never-ending love and power in our lives. He shows us that He has had a plan all along, and that if we just believe in Him, it will all come to pass in His timing and in His ways.
The destiny you have been assigned- there is provision for. He has a specific plan for your life. Pray that He shows you what His plan is for you. Let Him guide you to do what He wants you to do.  He will give you the love that you didn't know you had within you, to love the people around you. Let His heart of love fill your heart. Let His love work in your life and in your heart, soul and mind.  He will give you the strength to endure whatever comes, through His never-ending mercy and grace.  Remember it is only through Him that we can do all things. (Philippians 4:13) Look towards Him, and remember how He loves you and everyone around you. Look towards Him for wisdom every day.